A First Taste of European Transit
The Importance of a Good Train Station
For every city I visit during my Europe travels my first impression is of the train station, so I always try to capture this moment of arrival as it can set the tone for the entire stay in any particular city. I also cherish the love and devotion that so many cities give to their stations through their grand architecture and their central placement. My first station, or Bahnhof in German, was actually in Switzerland. Bahnhof Basel SBB is a neo-baroque building that the Swiss recognize as a national heritage site.
Bahnhof Basel SBB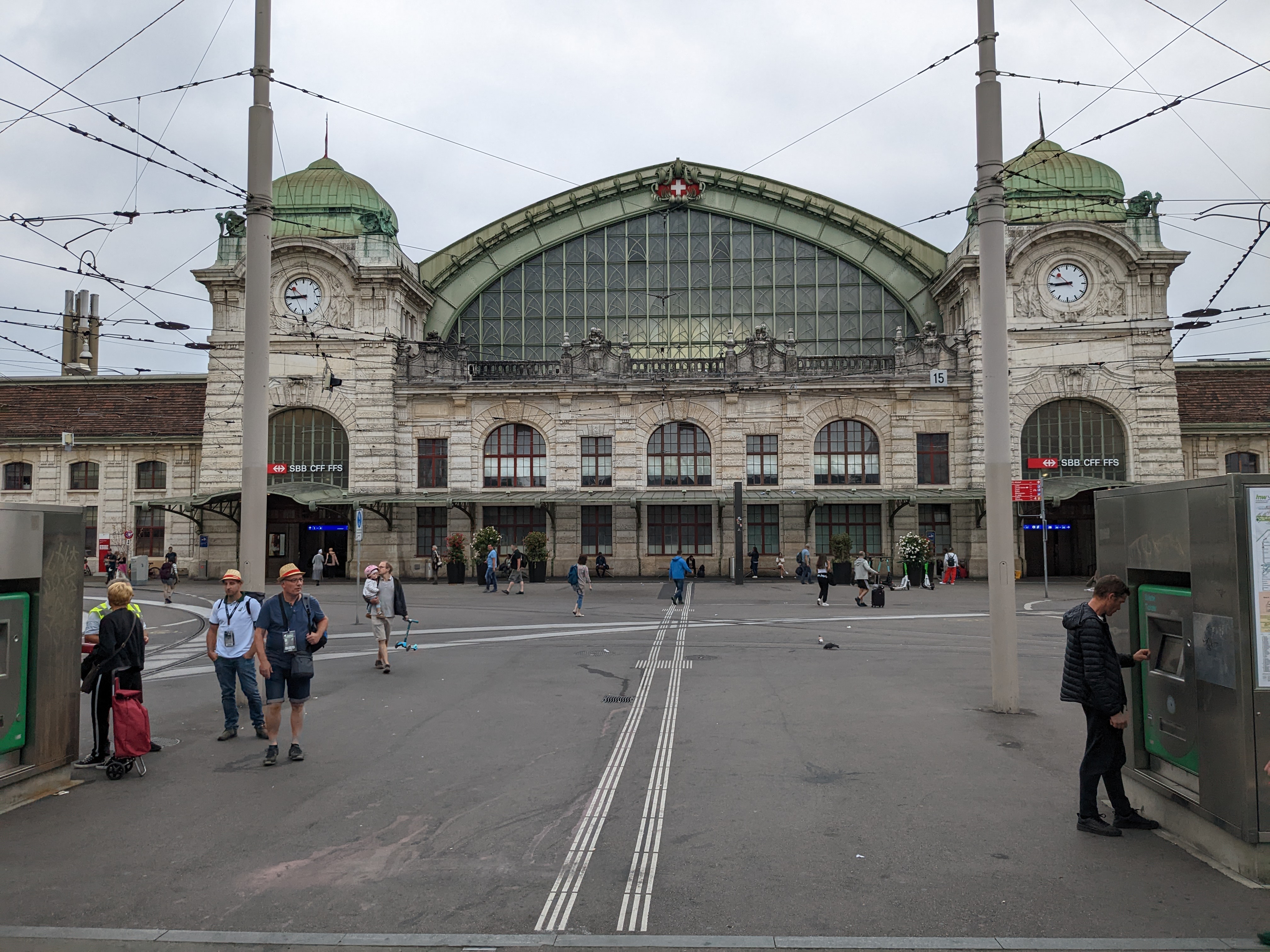 Basel also caught my attention for conveniently placing the central tram station Centralbahnplatz at the entrance of the Bahnhof, enabling seamless transfers to local transportation. These green trams go just about everywhere you would want in the city.
Tram Entering Basel's Centralbahnplatz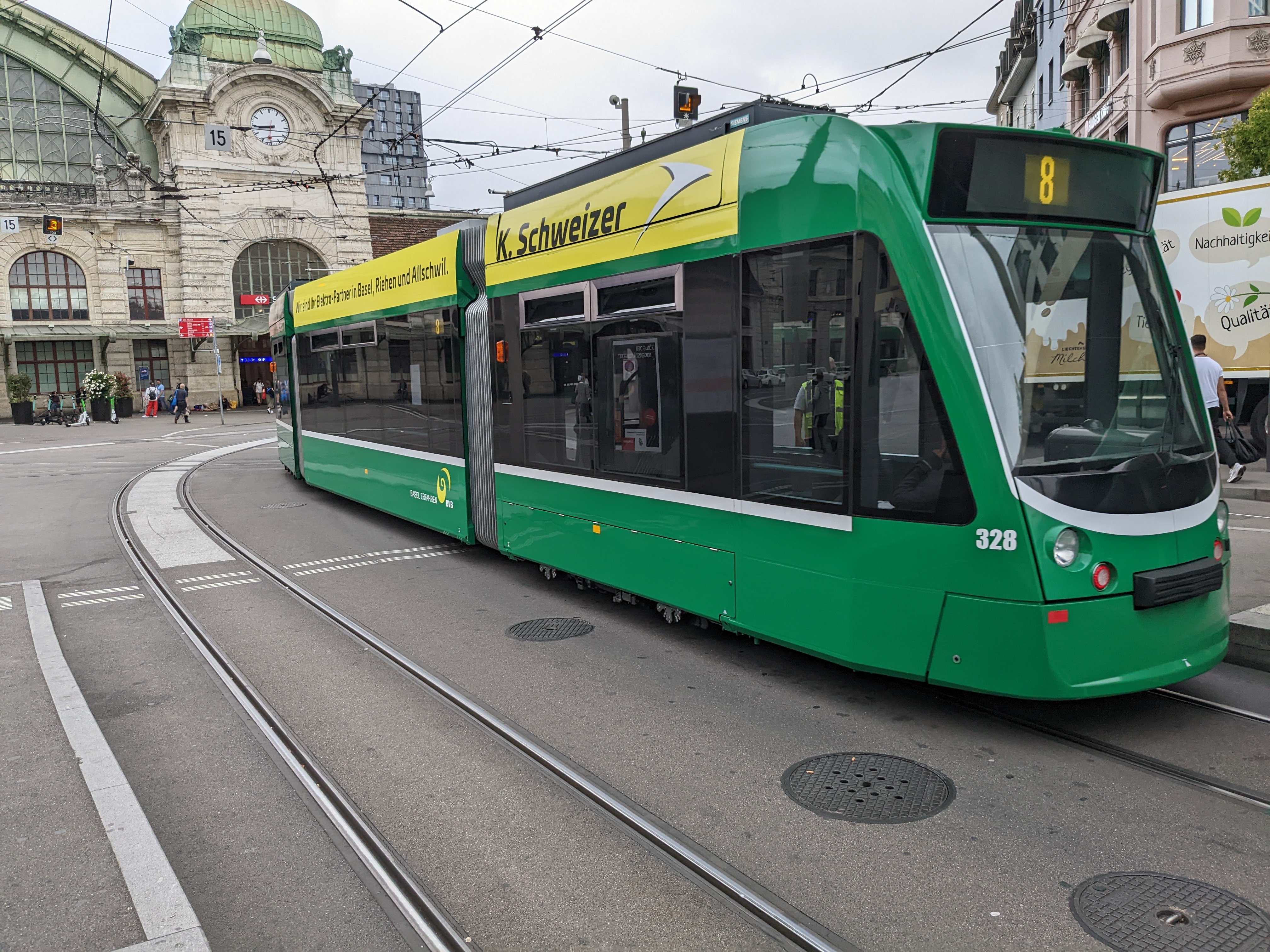 Karlsruhe
Internationally known for the Karlsruhe Institute of Technology, this city was a brief stop on our journey to Heidelberg. Because the 9-Euro ticket only allows for regional trains, many of our trips had upwards of 4 connections and allowed for a few layovers in some interesting German cities. Unlike airtravel layovers, which force you to kill time in sterile Airports, train layovers of even 30 minutes can allow a quick tour of downtown - and if the city seems nice enough you can just always stay around awhile and catch the next train!
Karlsruhe Hauptbahnhof - A Class 1 Hub Station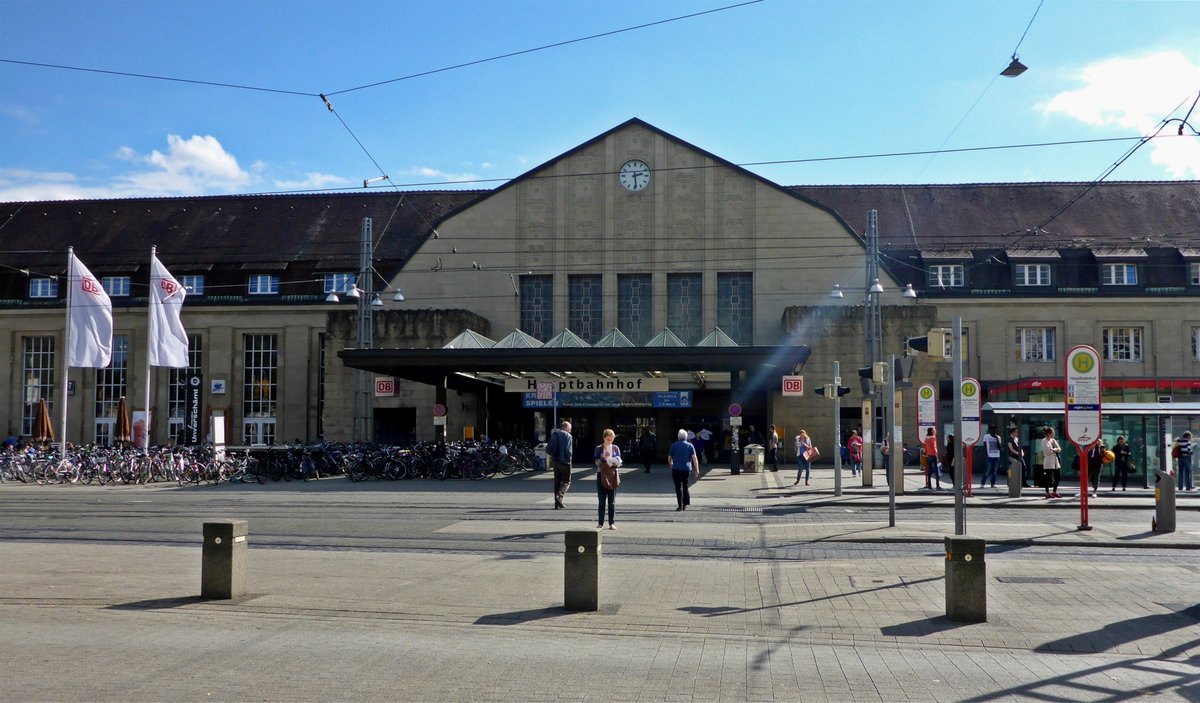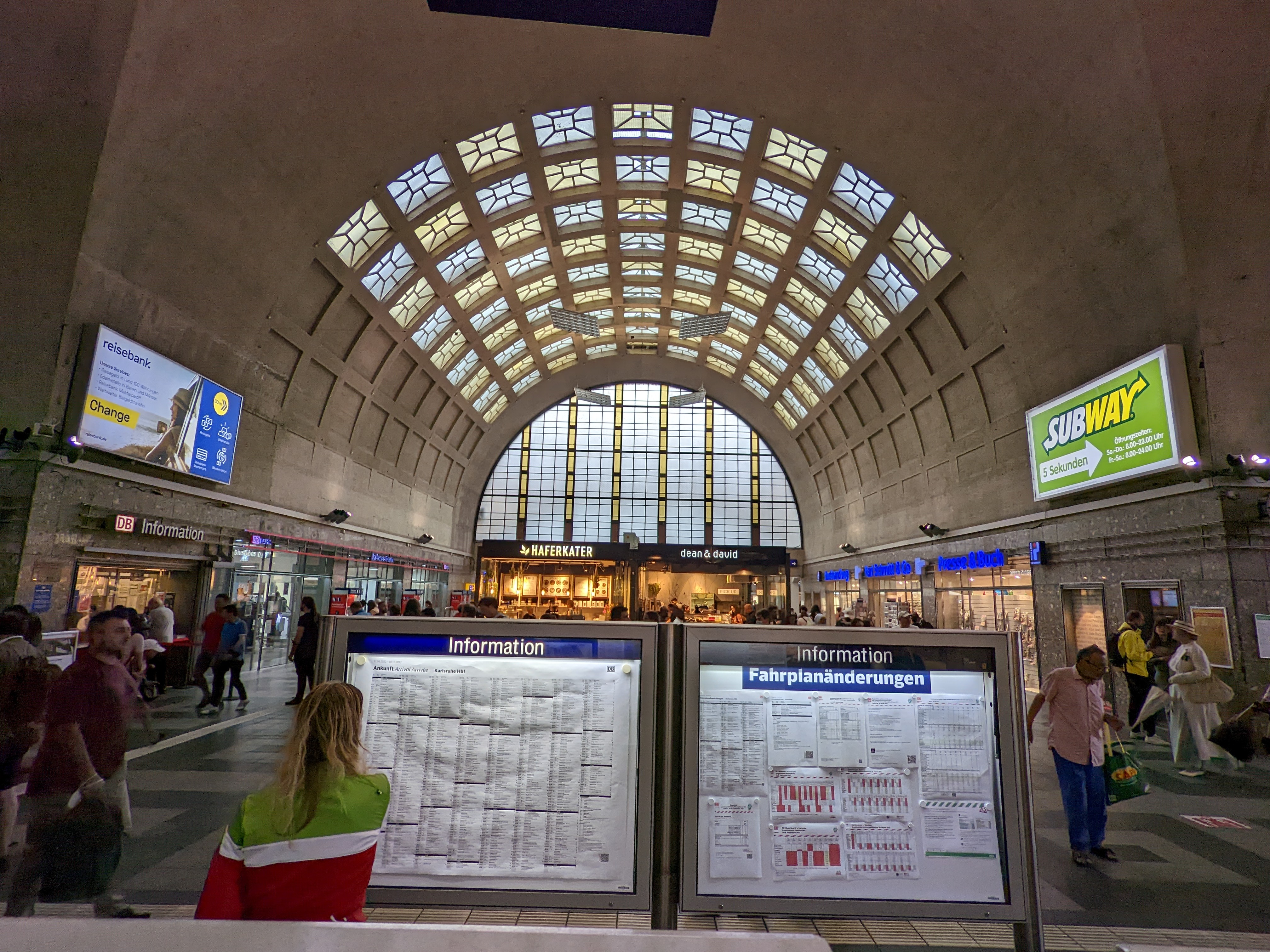 Heidelberg
Heidelberg Hbf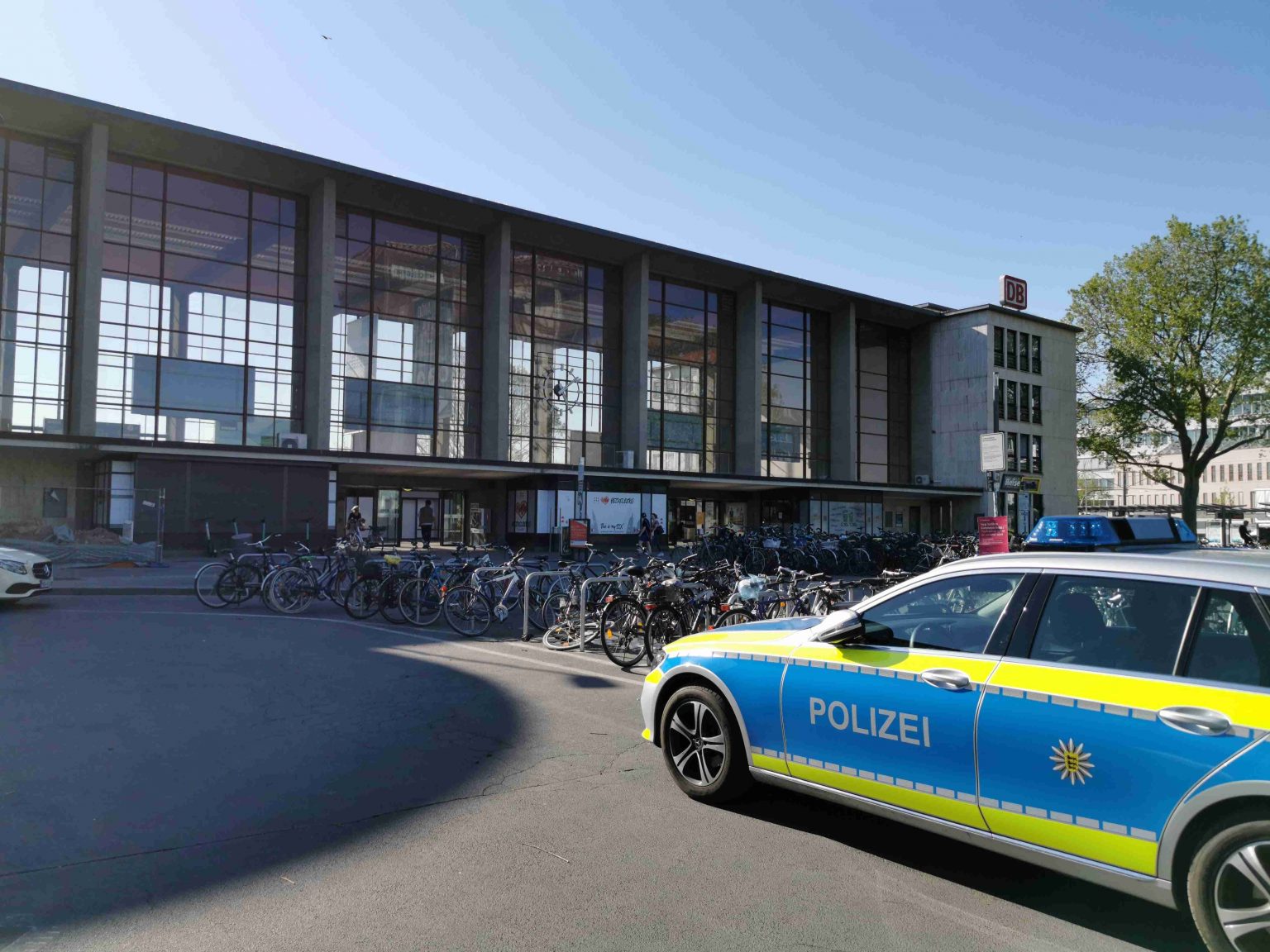 An Ampelmännchen Traffic Light in Heidelberg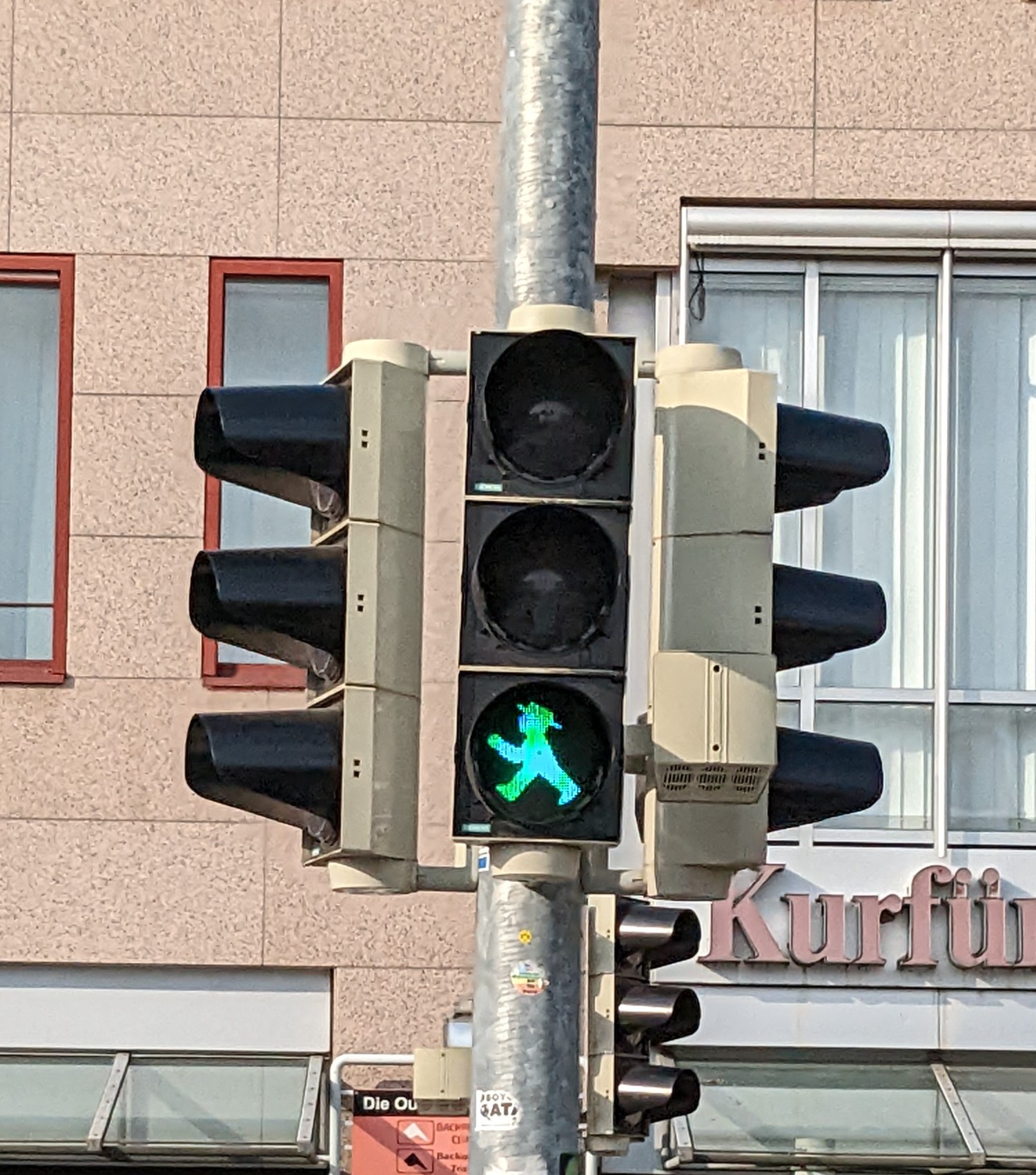 Leipzig
Leipzig Hbf - Best in Europe? Leipzig Hbf is an impressive yet convenient train station and gives an amazing first impression of the city. With elegant train sheds, a navigable main concourse, and two magnificent entrances this is my absolute favorite station I've seen in Europe.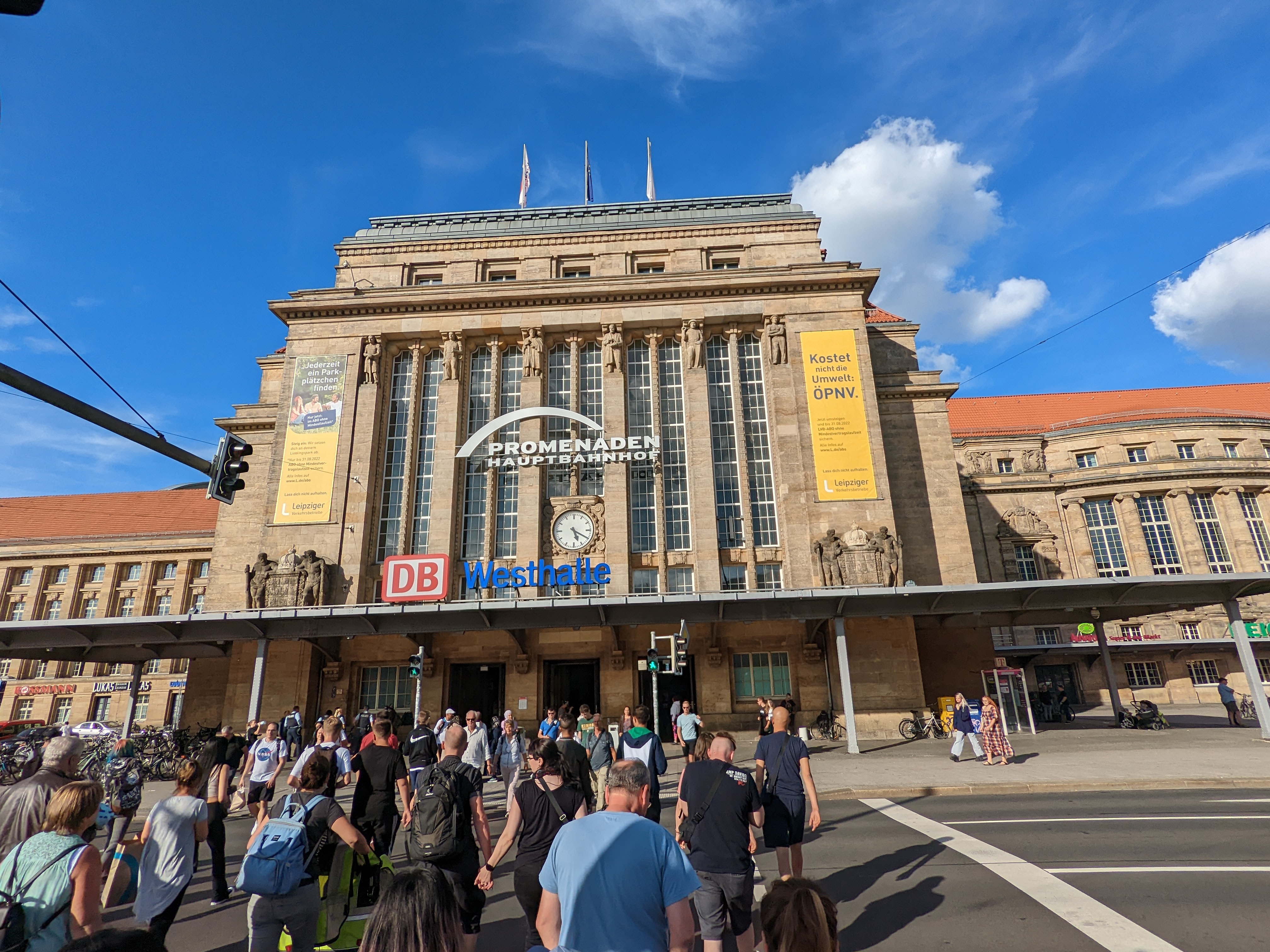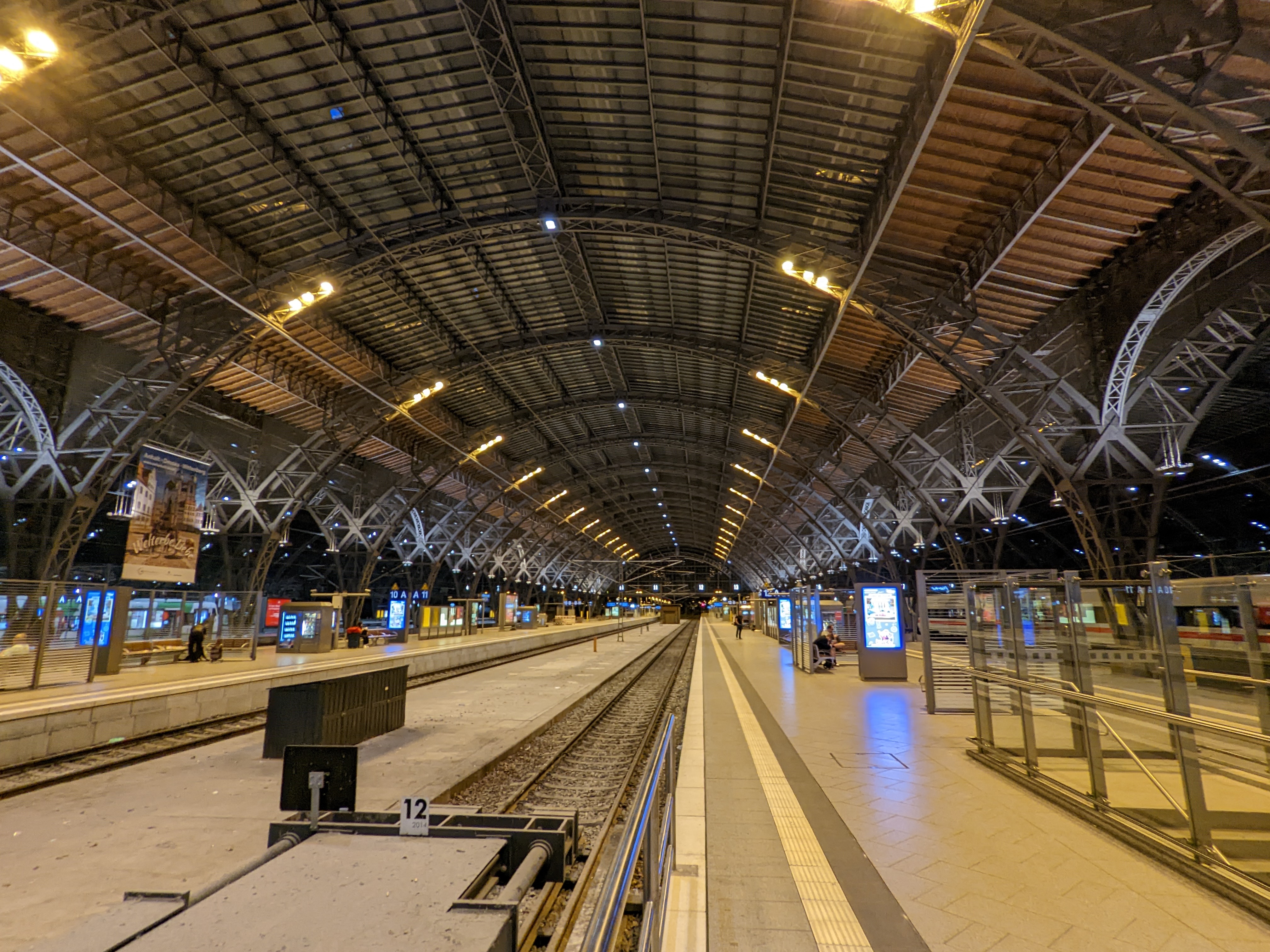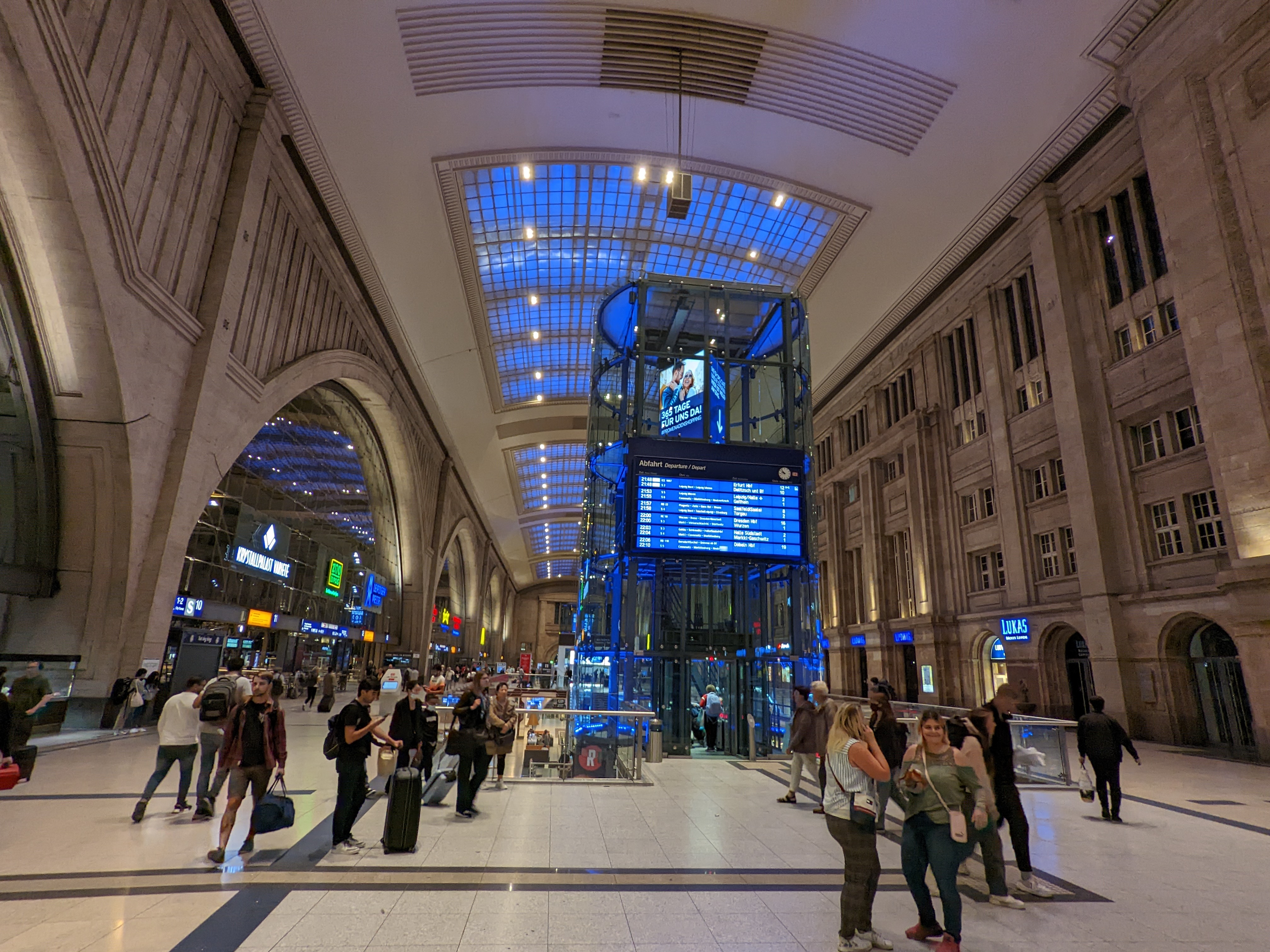 Berlin
Stepping off the train at Berlin Hauptbahnhof I entered a dizzyingly dense multi-storied concourse with trains in all directions, and then into a sparkling main entrance with ceiling and all sides built of glass. The clean austerity was quite a contrast to the baroque and decorative train stations I had seen in Leipzig, Basel, and Karlsruhe and gave me the impression that this city, utterly devastated during WWII, had done well rebuilding itself.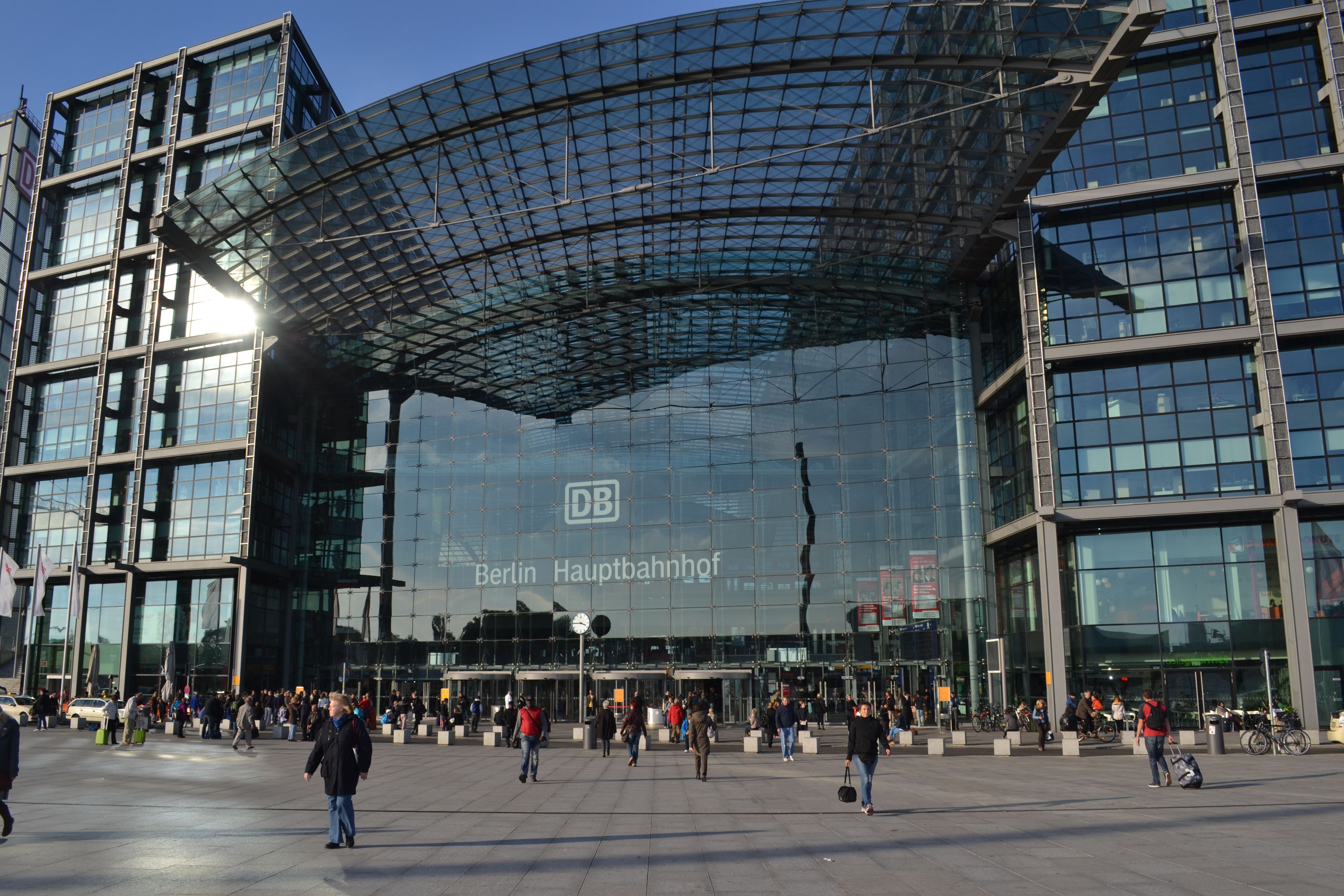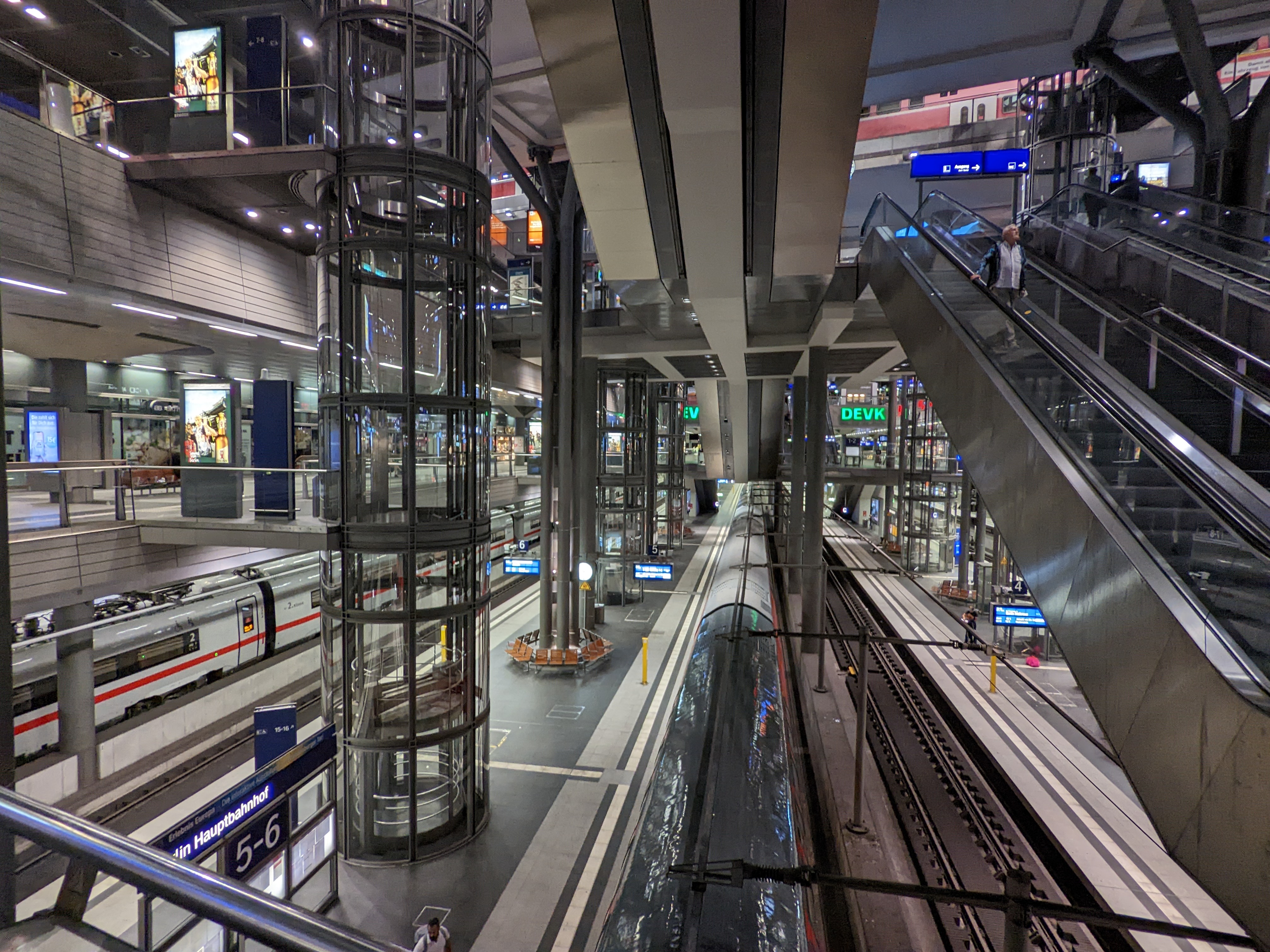 Oberbaum Bridge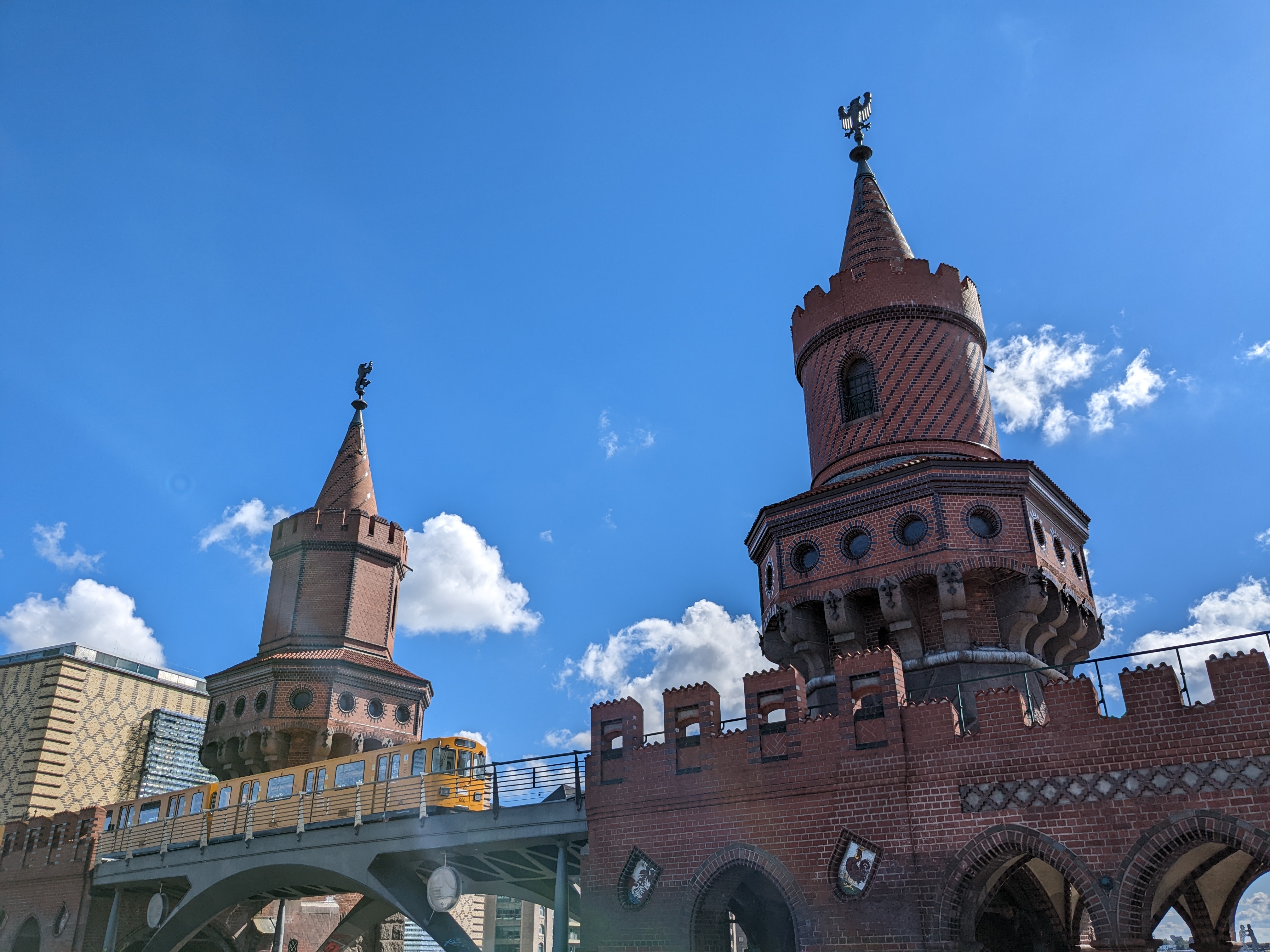 Hamburg
By this time my 9-Euro ticket had expired, so I took my first long-distance Flixbus had my first arrival not in a train staiton. Both the Berlin and Hamburg bus stations paled in comparison to their respective Hauptbahnhofs, and using them made travelling more stressful.
Hamburg Hauptbahnhof - Germany's Busiest Station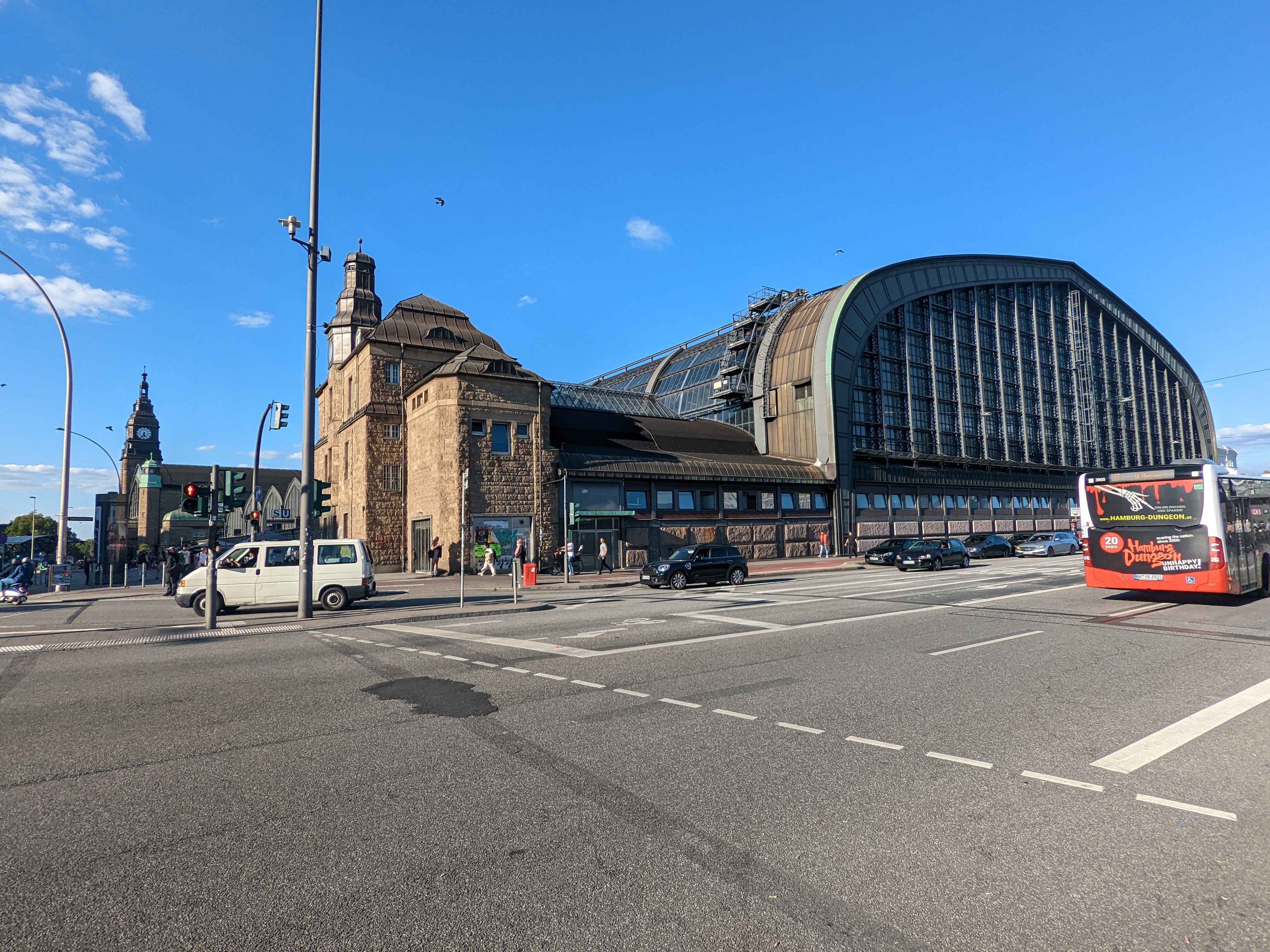 Amsterdam
After my stressful bus ride to Hamburg, the train to Amsterdam solidified my love of travel on the rails. Amsterdam Centraal is located directly on the river Amstel and holds an iconic place in the city's footprint.
Amsterdam Centraal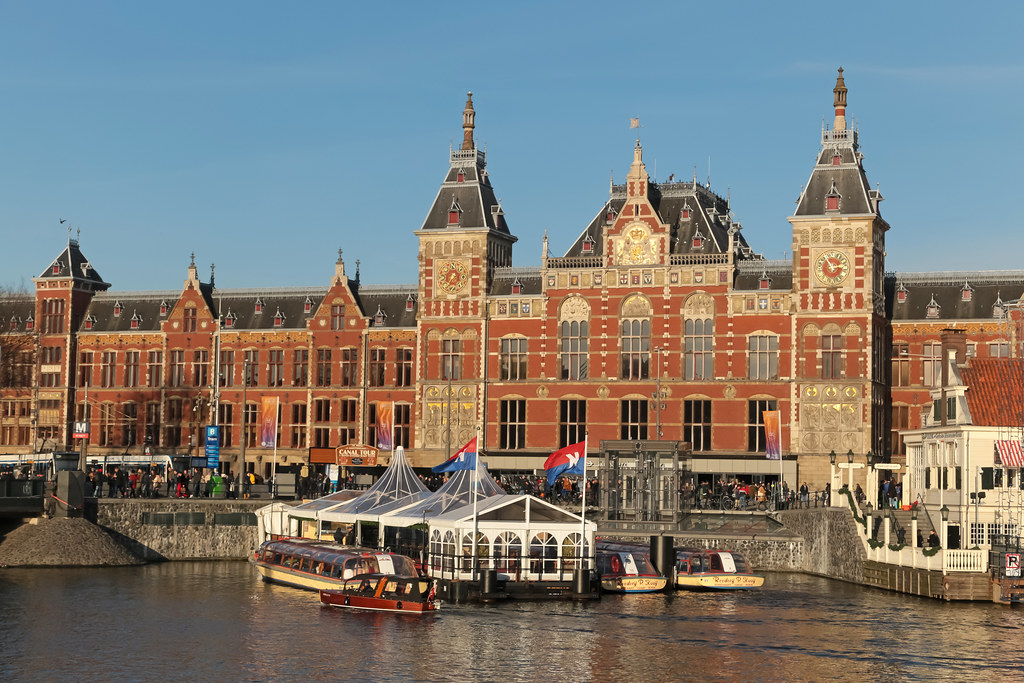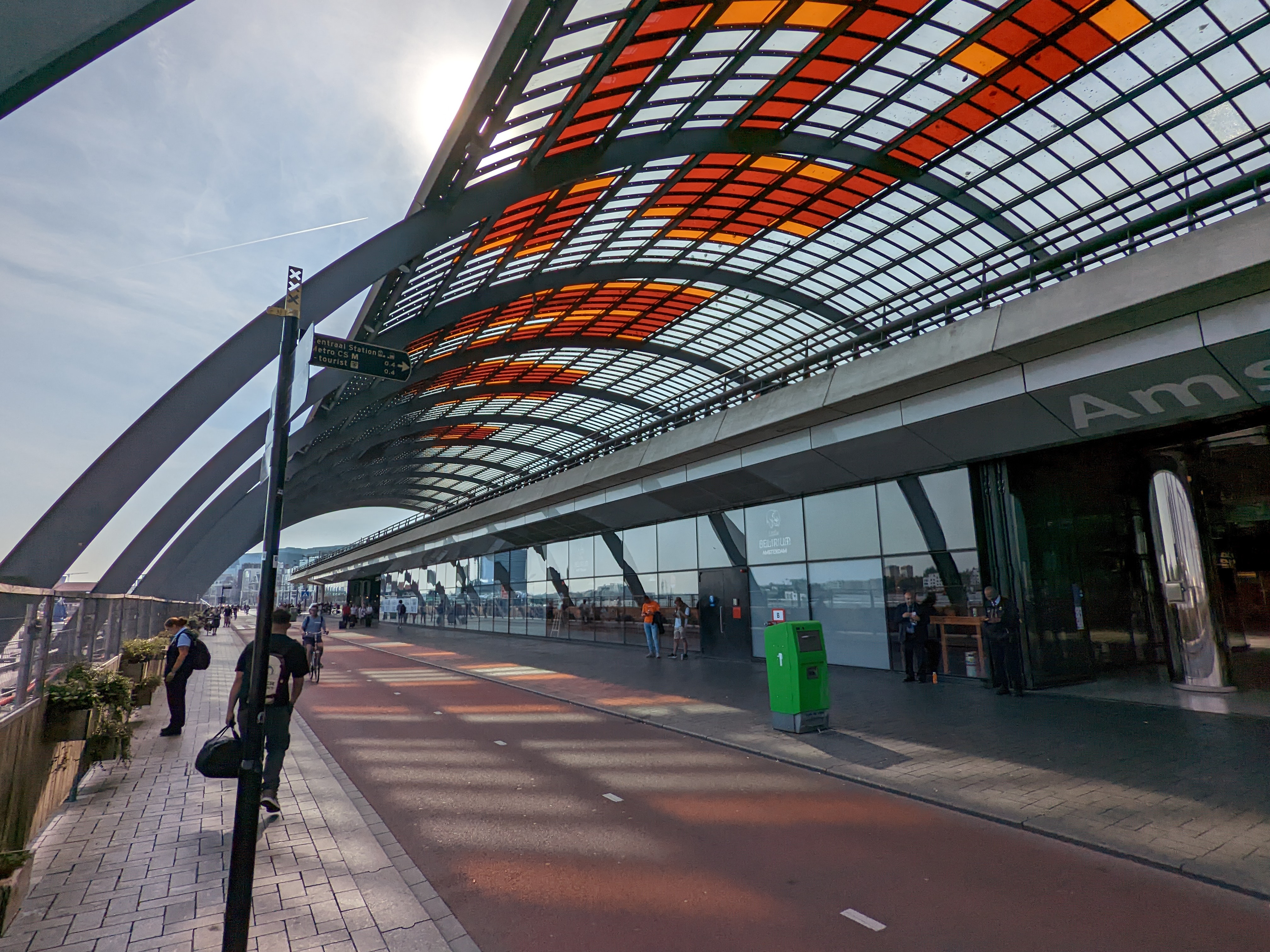 Dutch Intercity Train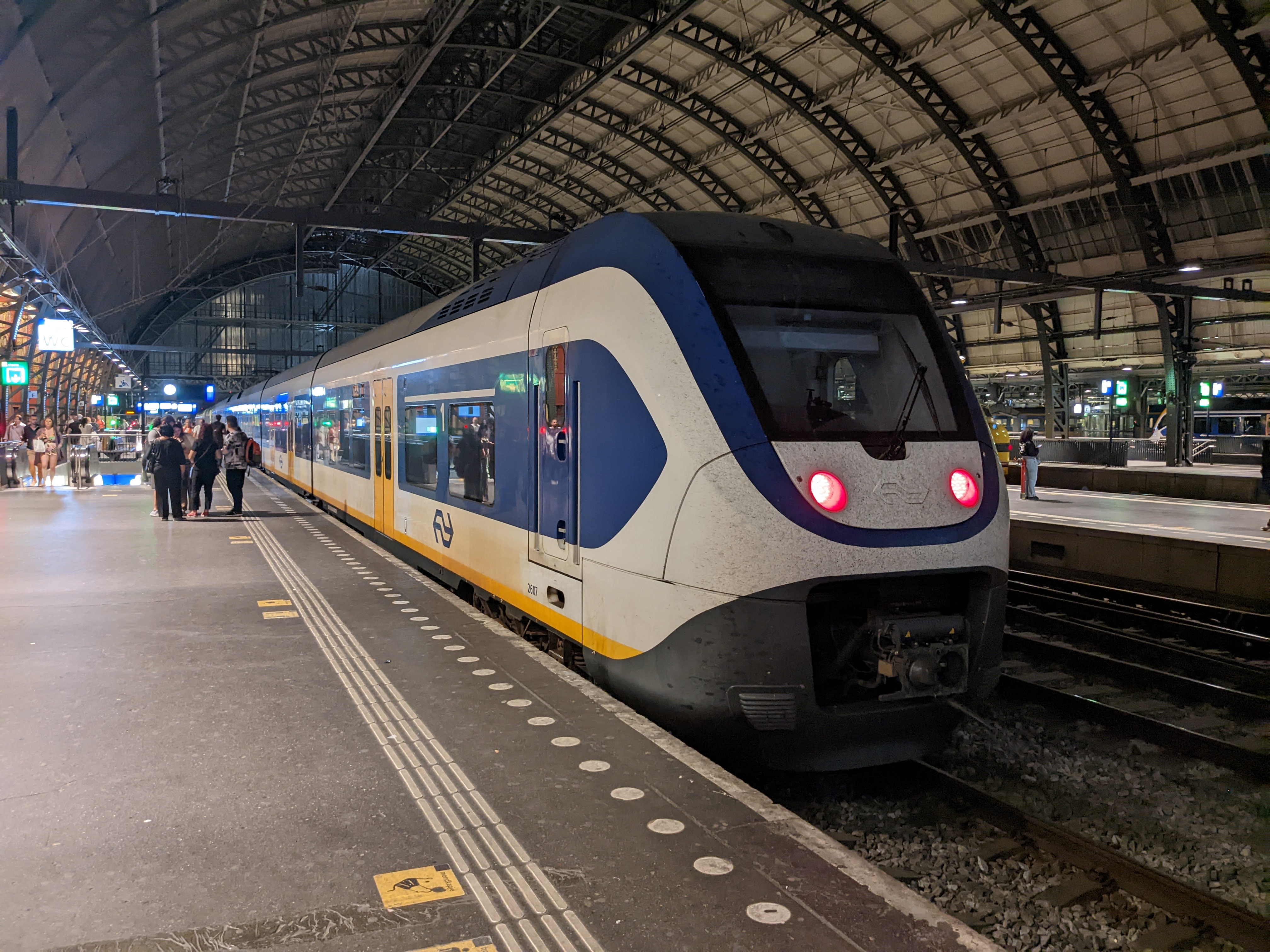 Although bikes are king in Amsterdam, the public transit is also great and not very crowded. There's even a tram stop right in front of the Concertgebouw!
Amsterdam Tram at Concergebouw
Paris
Gare du Nord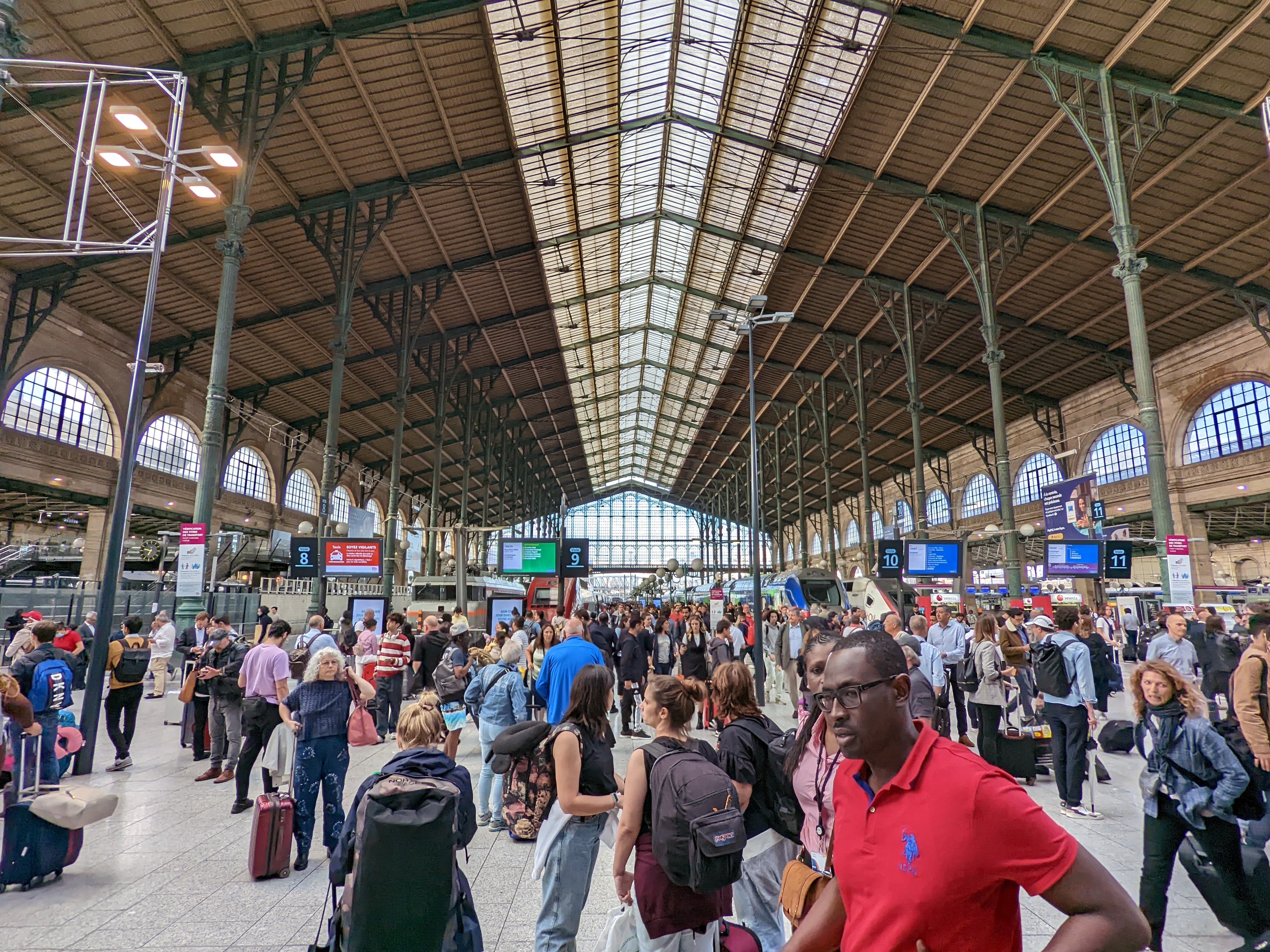 The busiest train station in Europe, Gare du Nord was intense the moment I stepped of the Ouigo train from Brussels.
Robust Looking Electric BB-22200 series Locomotives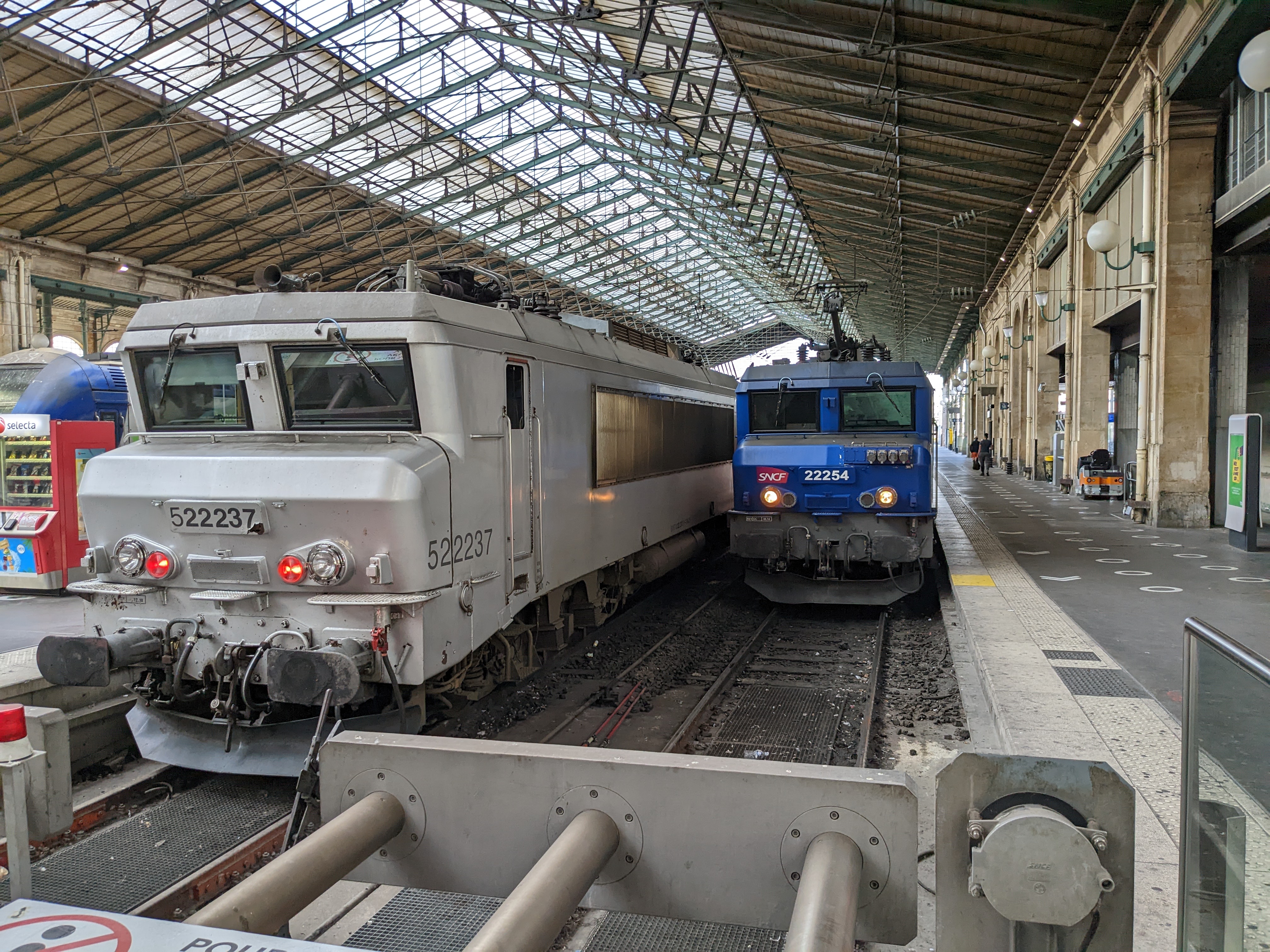 Gare De L'Est - The Other North Paris Rail Station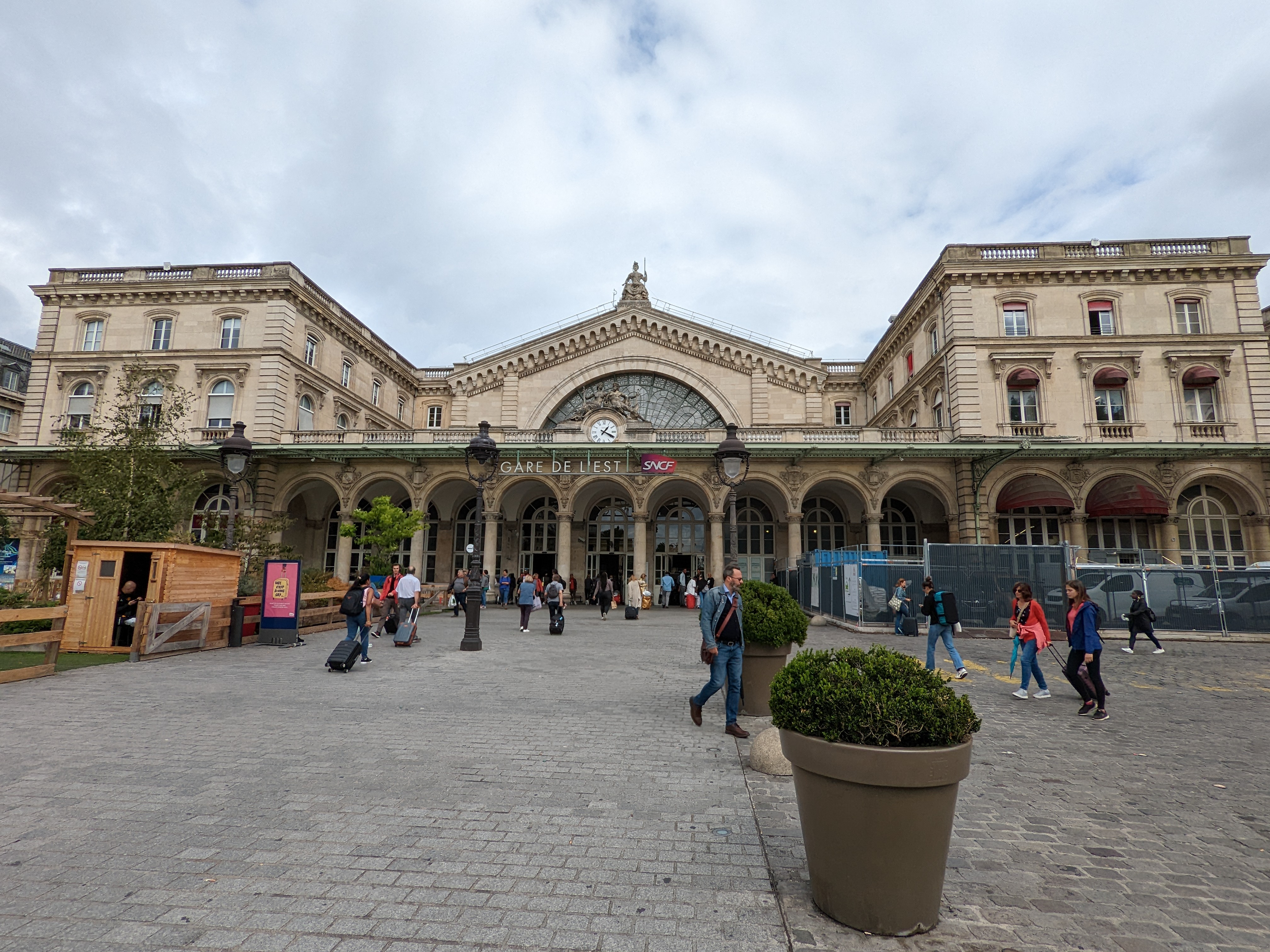 The Paris metro has the most thorough fare-skipping prevention of any transit system I have seen! My other experiences of transit in France, some bus drivers idle until every rider pays fares, make me think that Germany might have some competition for the strictest transit control.
Paris Metro Turnstyles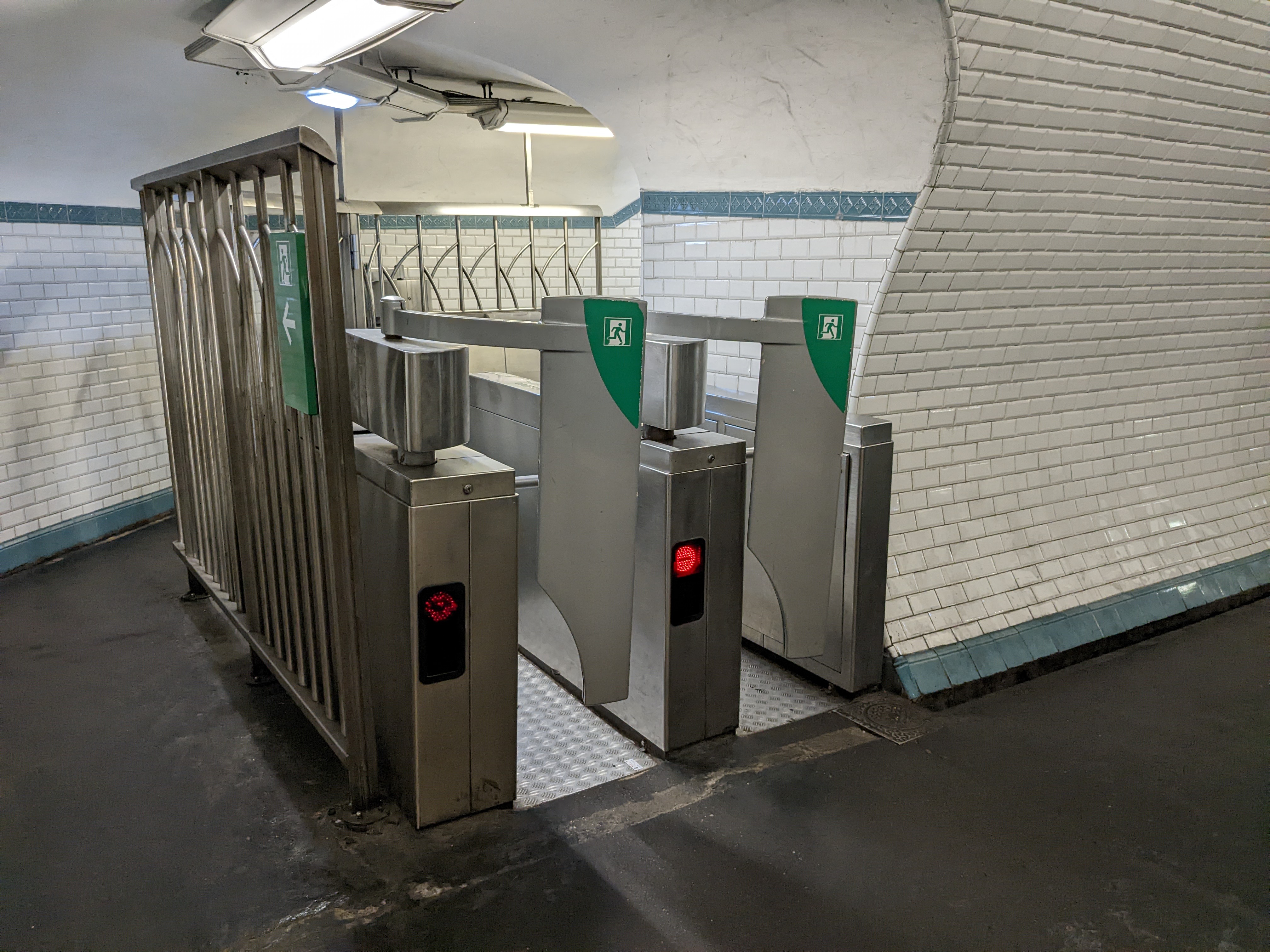 Paris Metro Zooming My Ouigo Train to Lyon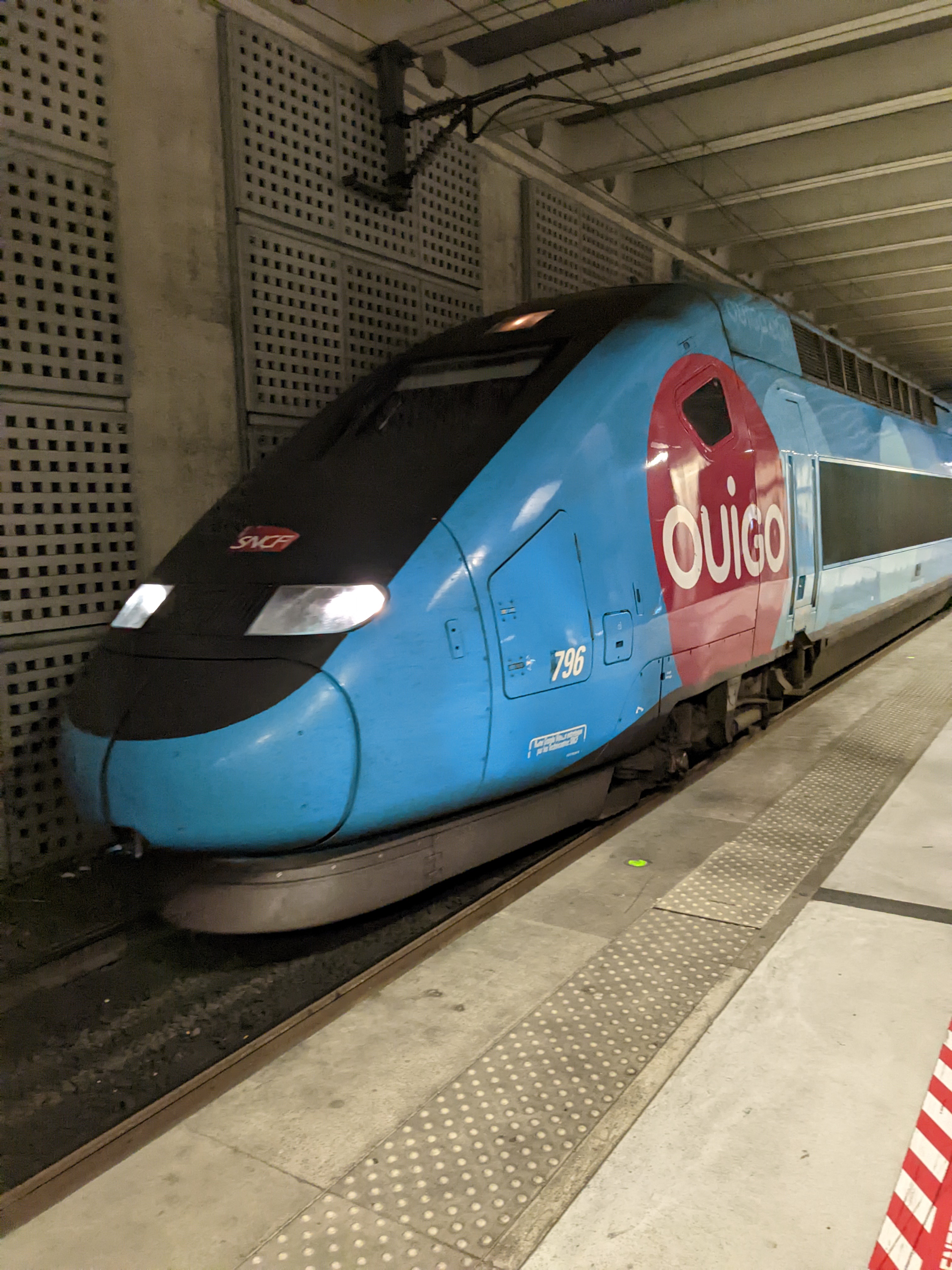 Lyon
Lyon has a good and somewhat adorable metro system, and of course with those hills there are Funiculars.
Lyon Metro - Cute!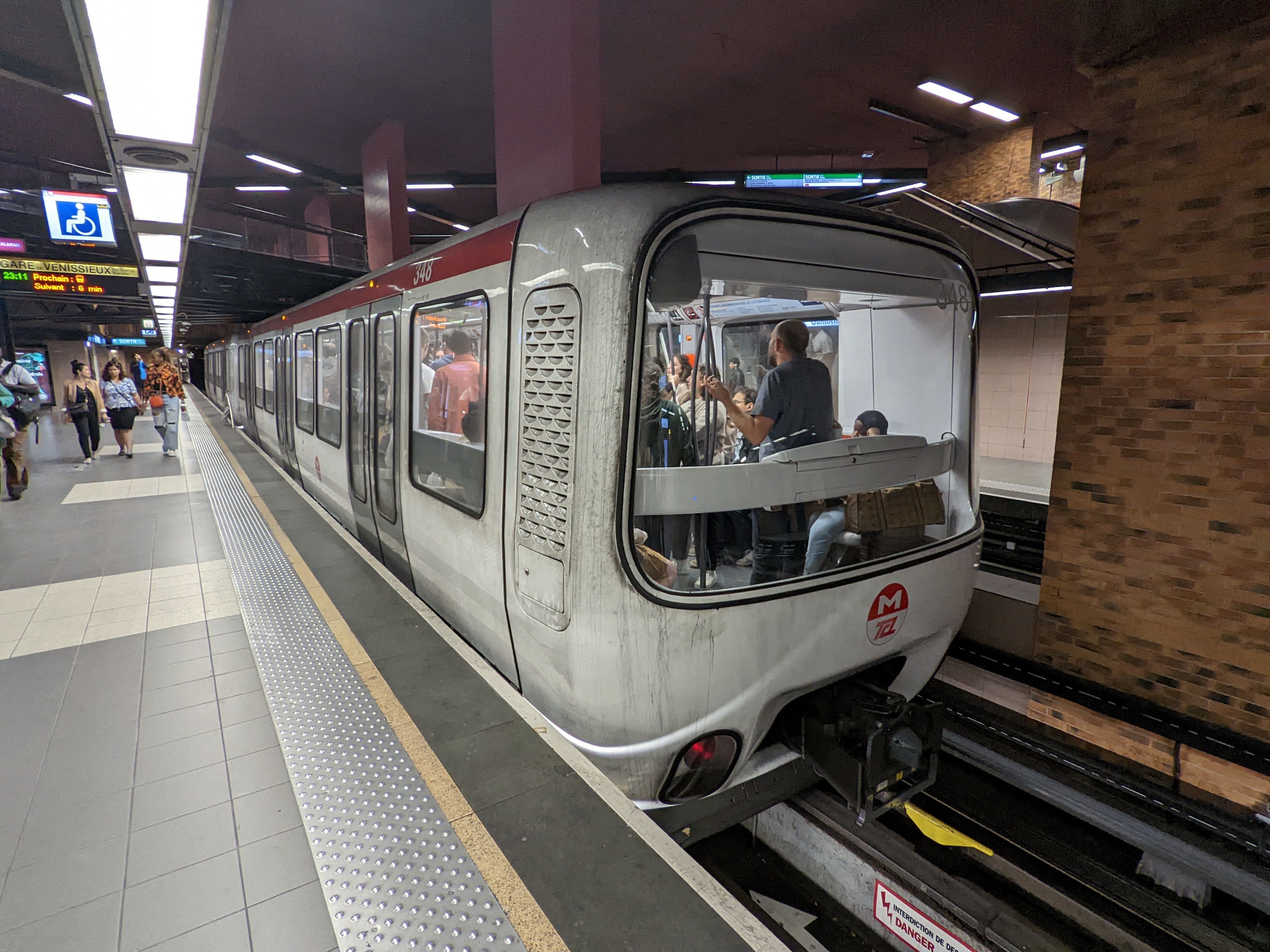 Funicular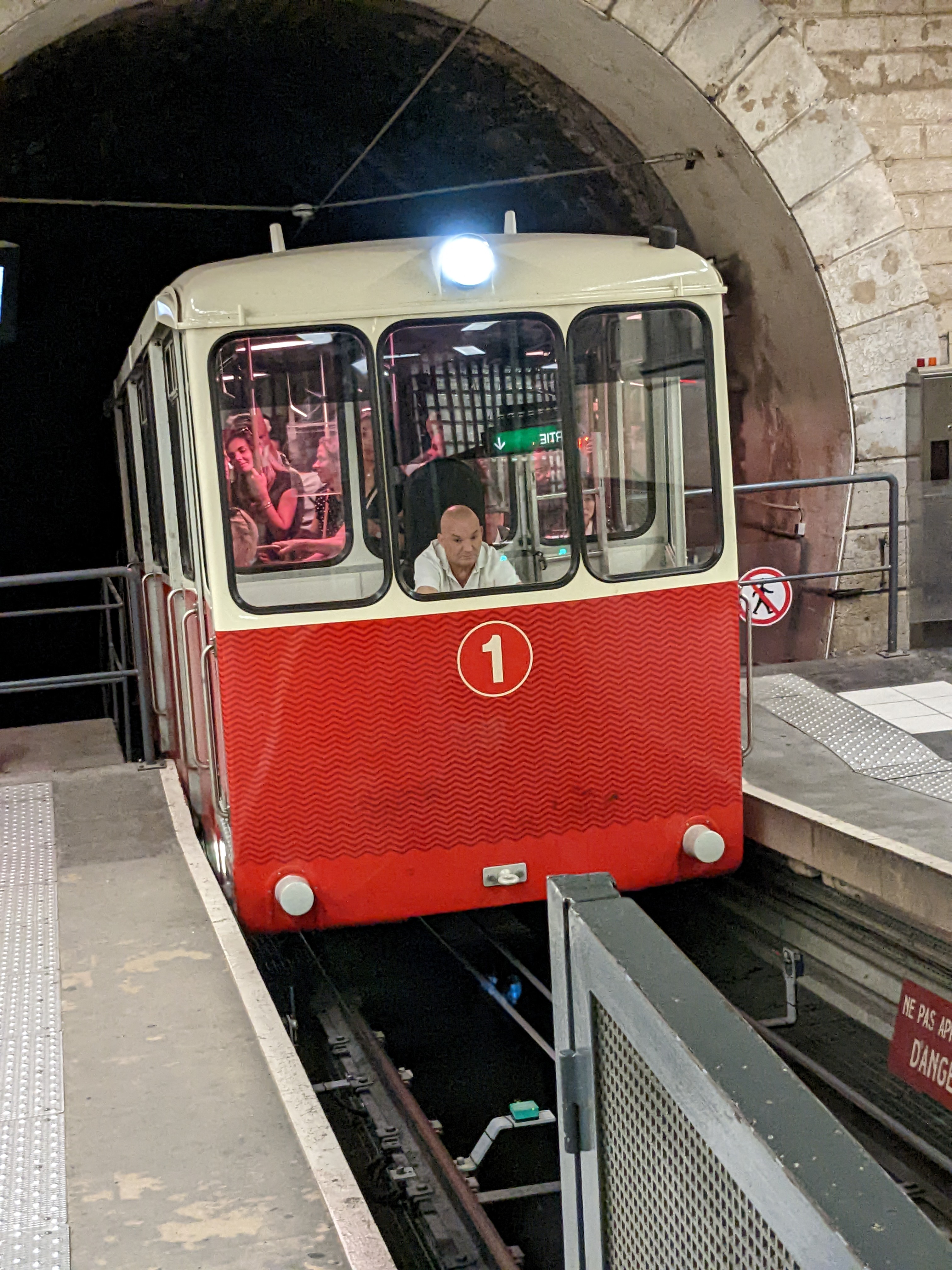 Clean Electrified Bus