The Pseudo-Alpinists
My second friend in Switzerland, a CMU '22 Alumni working at a cancer research laboratory in Lausanne, helped me stay connected to home in a perfect combination to how my other friends shared entirely new cultural experiences. I connected on the exchange student groupchat and I offered her a place to sleep for a week when her housing situation got tricky. It was with this amazing young woman that I planned my first Swiss mountain adventure. On almost every mountain in Switzerland one can find a cozy, well-equipped cabin. We found our Cabane de l'A Neuve in the region of La Fouly near the famous Mont Dolent, a peak defining the tri-country border between France, Switzerland, and Italy. With my freshly recruited exchange team: the Turkish Pittsburgher (The Brains), the Belgian (The Drink Supplier), and the Croatian (The Talker), I was ready to embark on my first great Swiss adventure.
The Team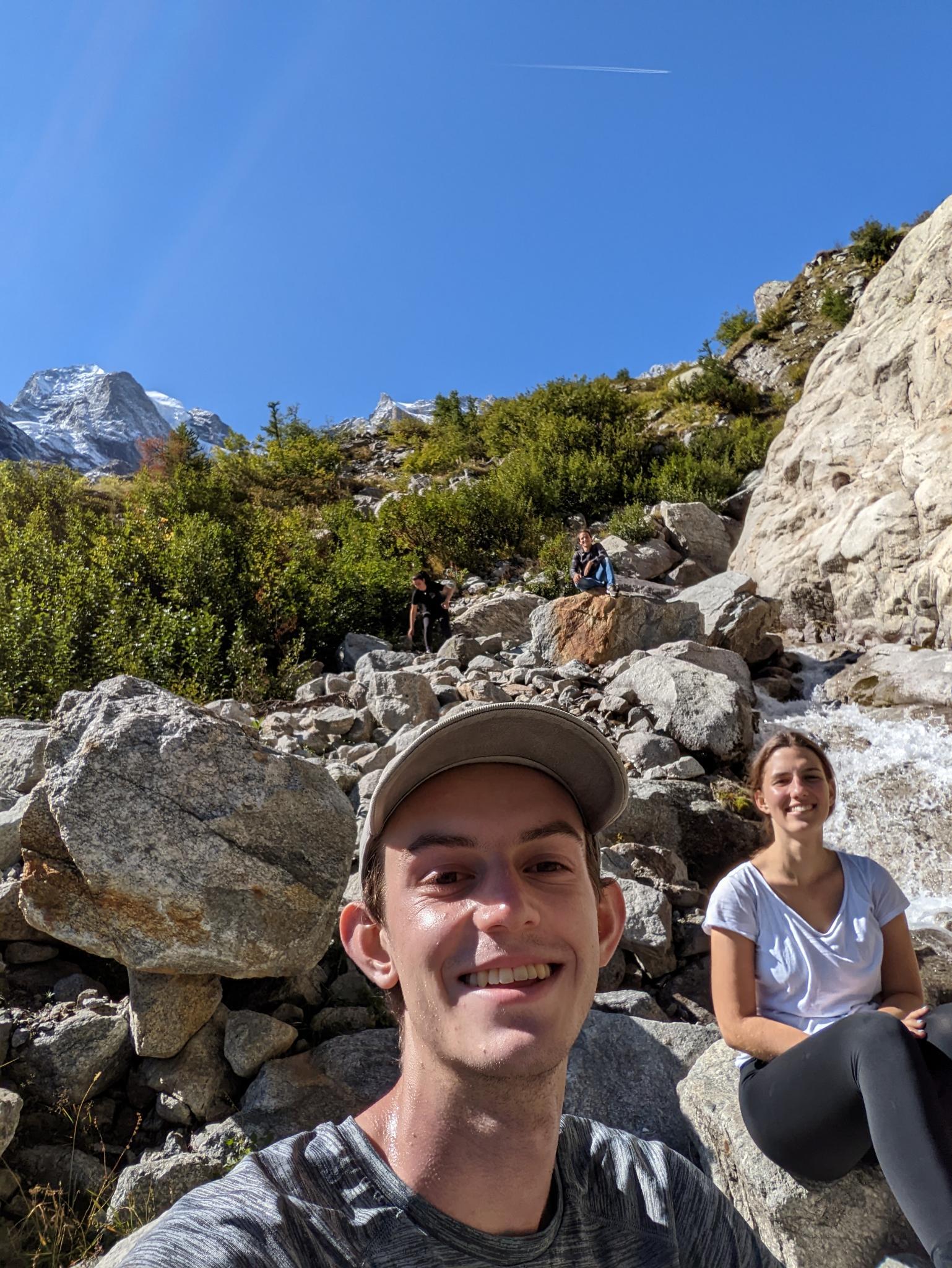 A Magical Train Ride
After the endlessly beautiful train ride along Lac Leman into the Alps, we rode the Region Alps St-Bernard Express Train from Martigny to Orsières, where we transferred to a Bus that took us all the way to the start of the hike in La Fouly. Even before taking the first step on the hike I could see it would be incredible. This last Region Alps route winds through a narrow mountain valley with vertical cliff walls on both sides, and it just so happens to be the same way to the famous Verbier ski resort where I will ski dozens of times this year. The magical train rides are truly a necessity when traveling here.
A Most Rewarding Climb
The 1170 meter climb from the alpine valley floor to the cabin bonded our little group through joy and suffering. Around half-way up I started wondering if the Cabin even existed because I couldn't imagine where the Swiss could of put it on this insane jumble of rocks, but sure enough we spotted the little hut perfectly camouflaged among the tan stones. This climb was even steeper than the Oeschinensee one I had done 3 weeks earlier, and my body was not prepared for the final, almost vertical ascent up a cliff. After many pauses and refreshing alpine stream drinks, we reached the precariously perched cabin and were met with an awe-inspiring view.
Can you spot it?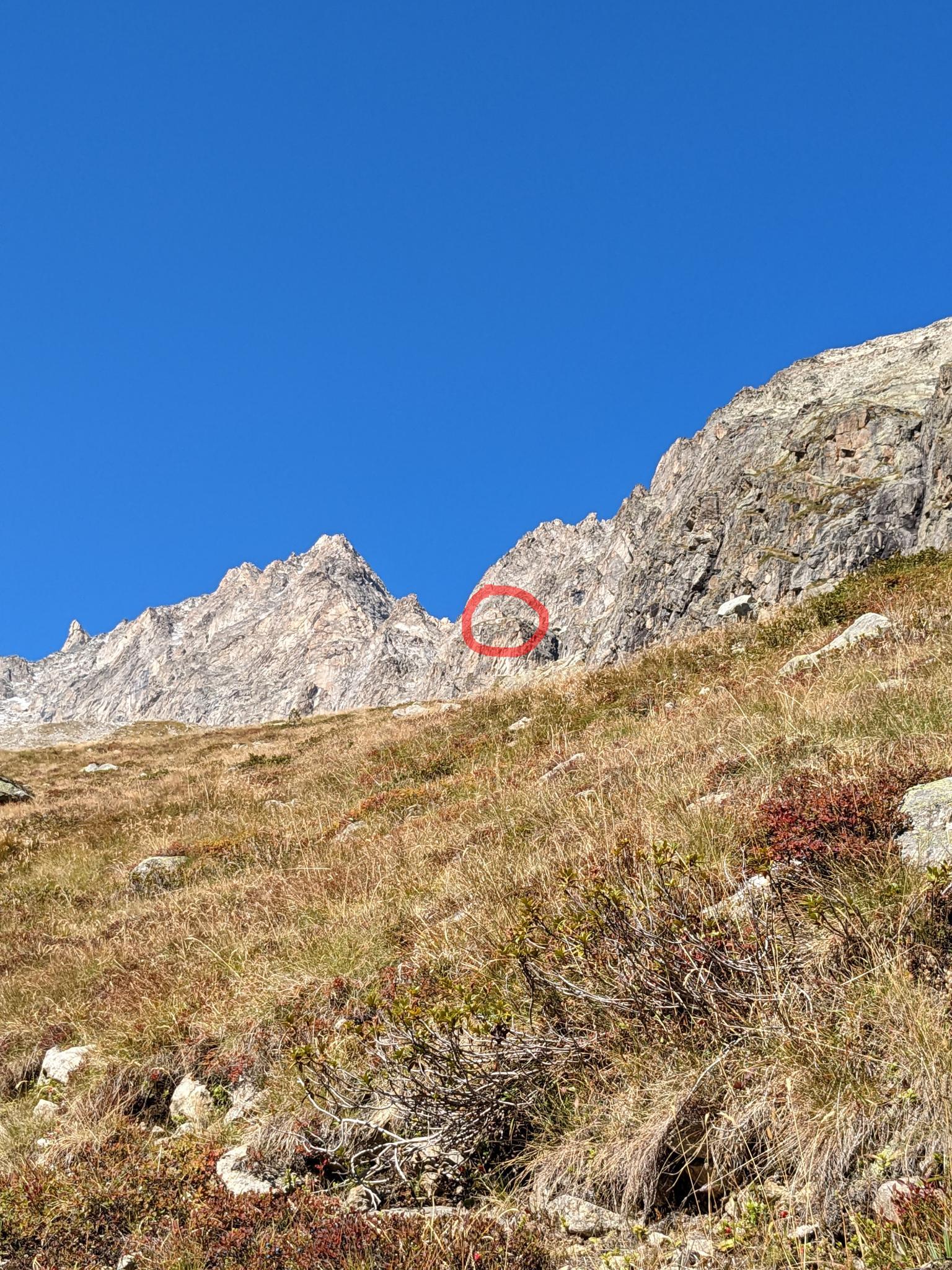 We're not real Alpinists (Yet)
After a filling mountain meal and some fun time with the local hut cat, we snuggled up in our cozy little beds and enjoyed some amazing rest. Our bed neighbors were a group of true French Alpinists, who had brought hundreds of meters of rope, climbing gear, and helmets to continue the ascent past the marked trials the next day. When we asked our kind host about any further hikes, she laughed and gave us a worried look as if we would surely die going any farther up the mountain. We we're just a bunch of amateurs compared to the real Alpinists, but in La Fouly I felt like an absolute badass. Our ragtag group cemented our friendships in the Swiss Alps that weekend, and it will be hard to ever choose to sleep outdoors in Switzerland again when there's surely a cabin just around the mountain.
Spectacular Cabin View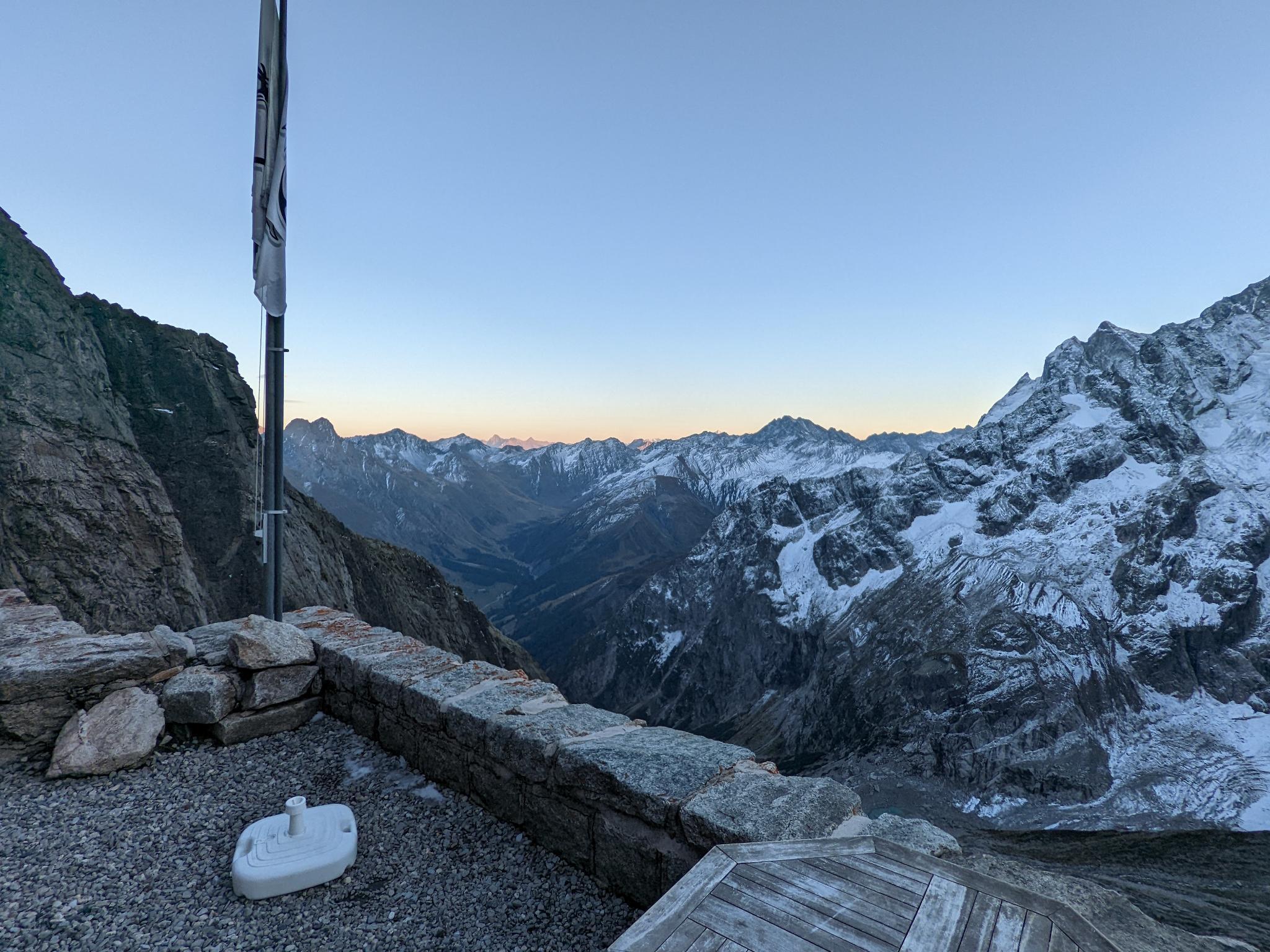 How did they build this?