An Incredible Travel Incentive - The 9-Euro Ticket
Germany this Summer was a transit-enthusiast's wet dream. In an unprecedented experiment in basically free public transit, the German government created a 3 month pass from June to August that allowed unlimited regional public transport in the entire country for nine Euros. As soon as I learnt of this unbeatable offer I started packing my bags for a trip across Germany. Tengyan, two of her friends, and I met at the train station and headed for Basel to cross into Germany.
Heidelberg
Our first overnight stop was Heidelberg, a small German city famous for its battleworn hillside castle overlooking a charming historic old town. I enjoyed the waterfront so much that I rode an e-scooter back and forth along the 2 kilometer stretch for a few hours, sometimes a little precariously with two passengers. We ended our last night by stopping by a random birthday party near the hostel that welcomed us with true German hospitality and local beers.
Waterfront and Bridge Seen Across River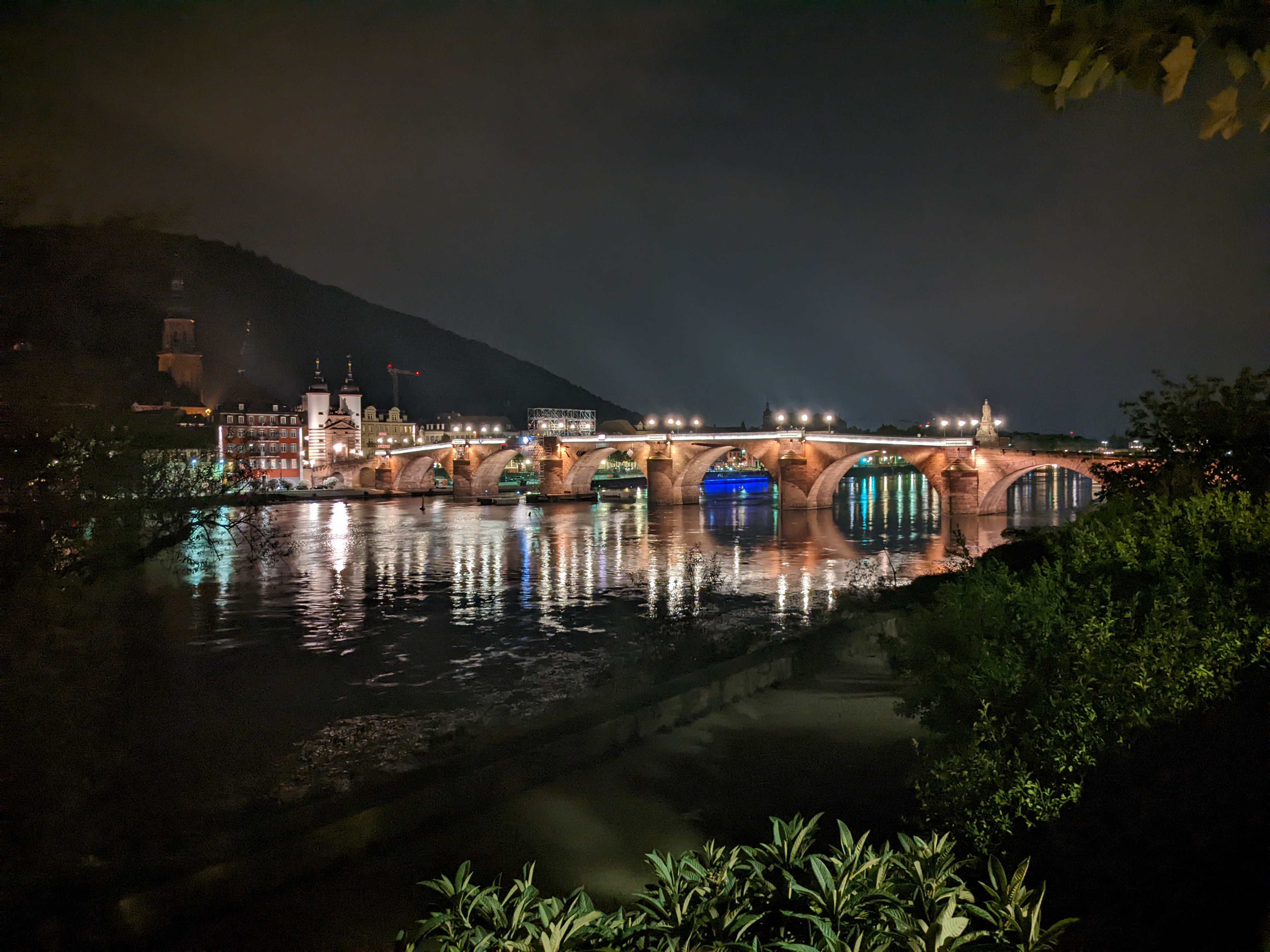 Local Brew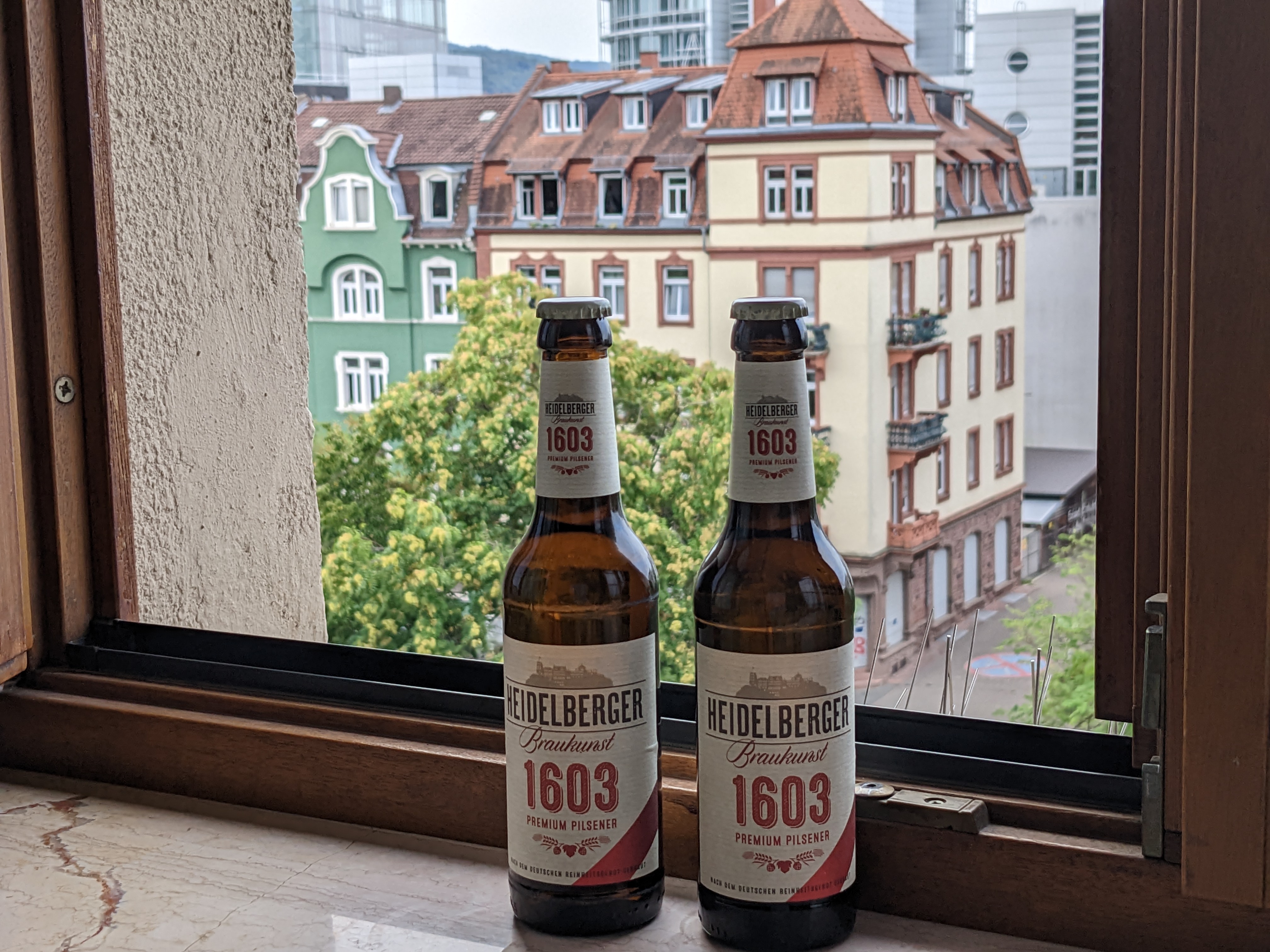 Heidelberger Schloss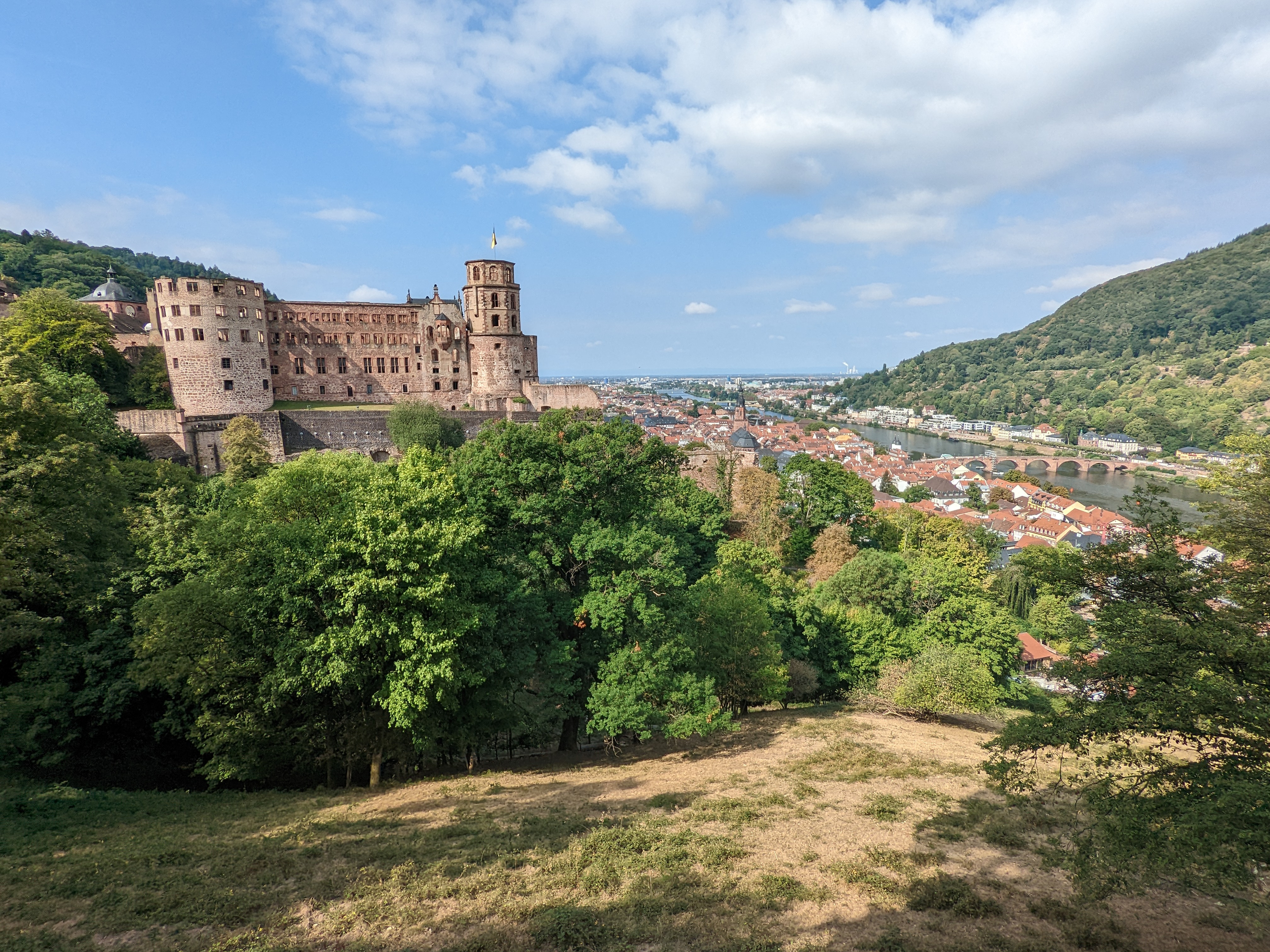 Leipzig
One awesome part of regional train travel is that connections are often in medium sized cities worth visiting that often don't make the must-see lists. Leipzig sat directly on our path to the ultimate Germany destination of Berlin, so we decided to break up the half-day train trip from Heidelberg to the Capital by stopping there for a night. As a huge fan of classical music, I was thrilled to learn that Leipzig is famous for being associated with some of my favorite composers - Bach, Wagner, and Mendelssohn. Visiting Thomaskirche where Bach spent much of his career as the musical director, the fabulous Leipzig Zoo, and the massive central train station were highlights.
Thomaskirche - Bach Worked Here!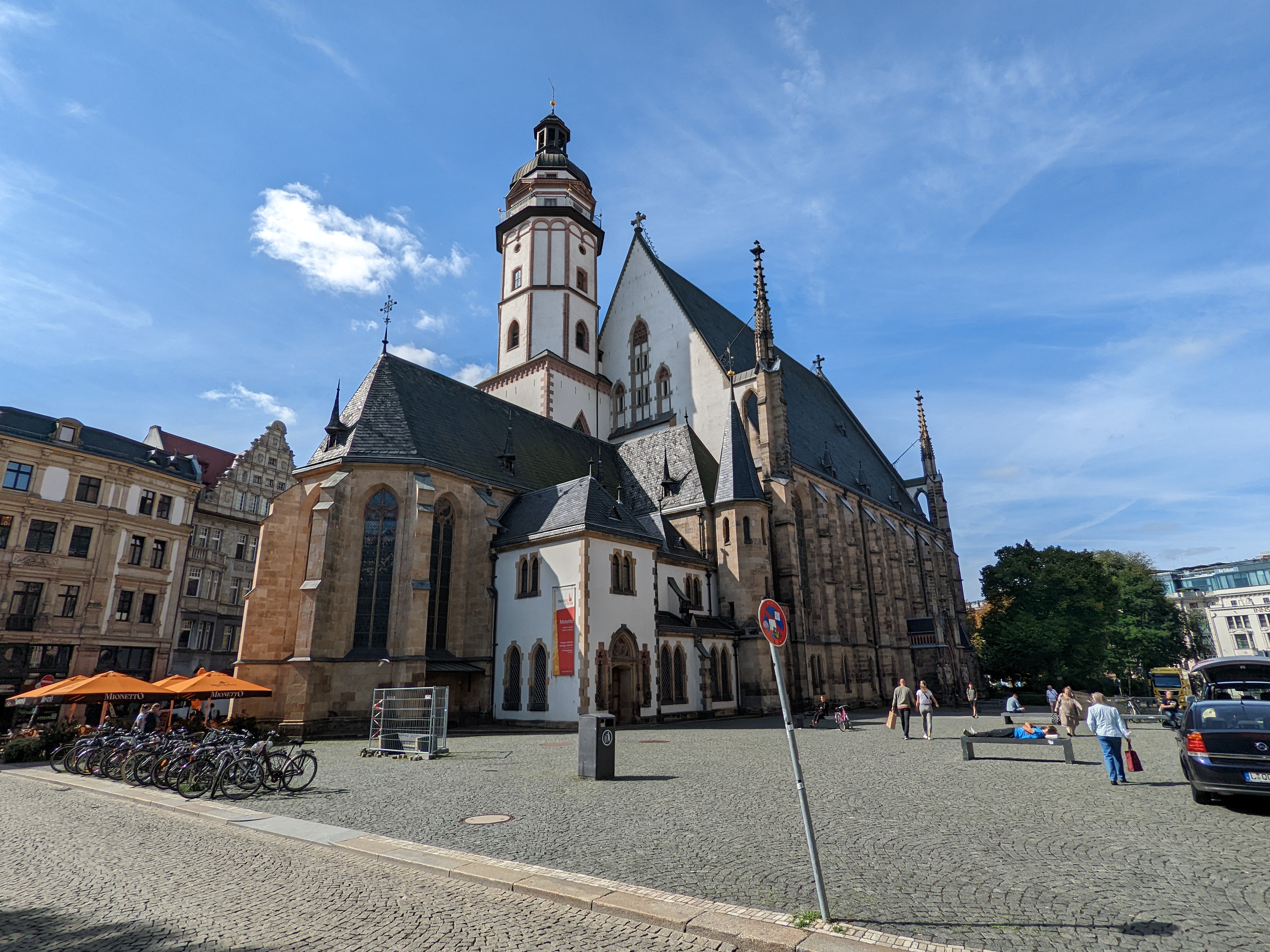 Berlin
Visiting the vibrant capitol of Germany introduced me to the modern side of Europe.
Oberbaum Bridge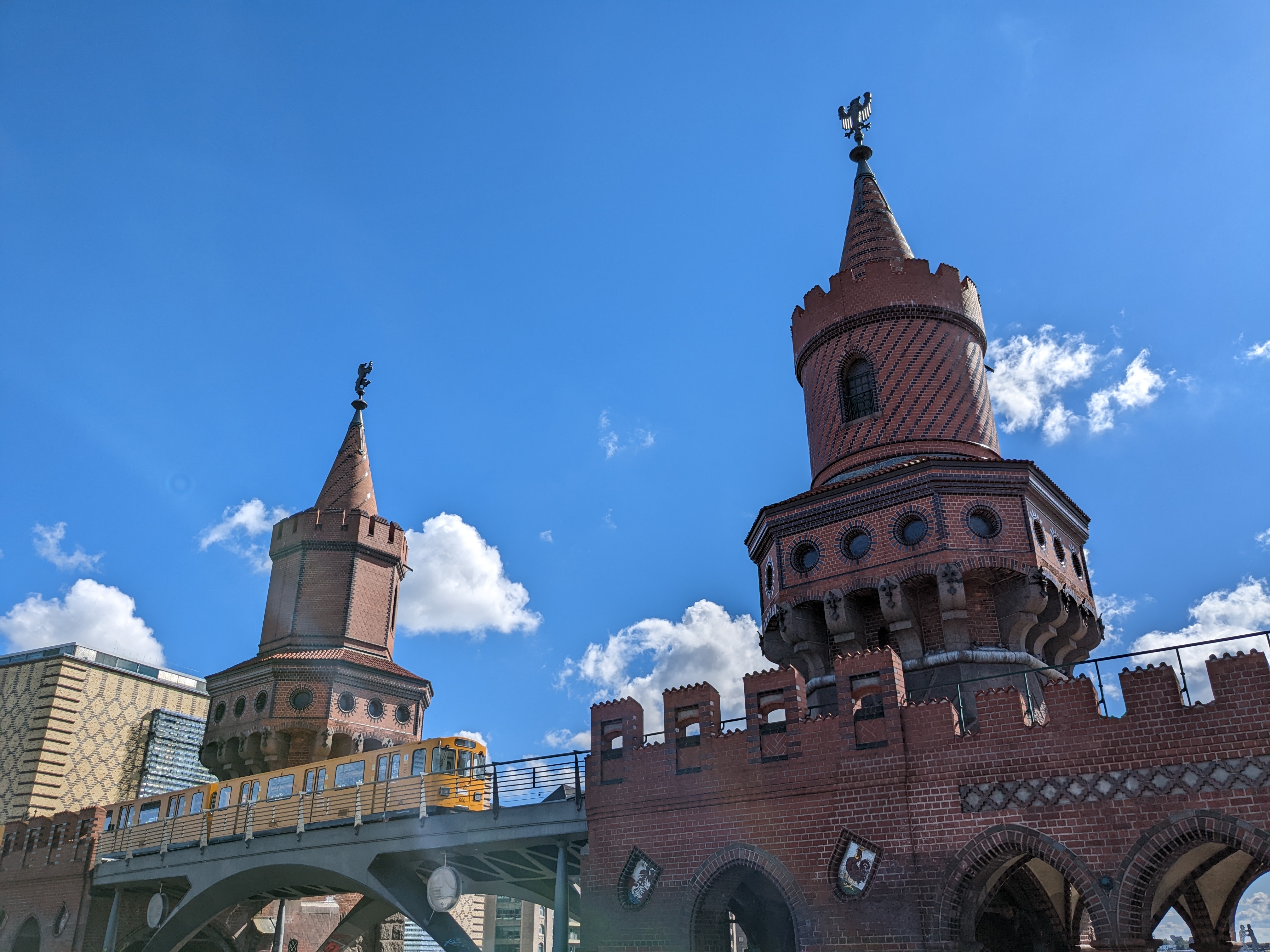 Charlottenburg Palace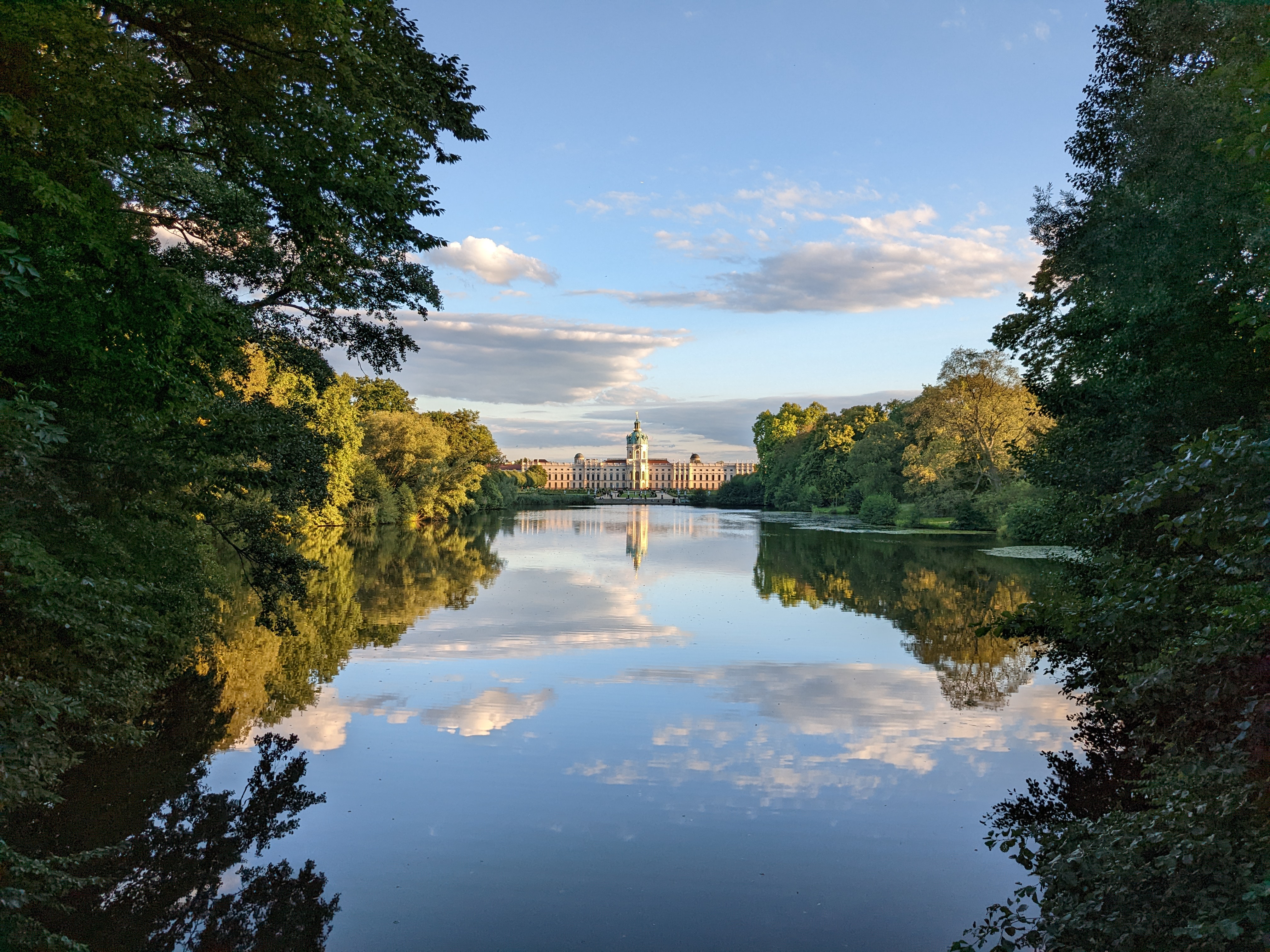 We spent three nights in a budget hotel near the Görlitzer Park in the lively Kreuzberg district, but I missed the social scene of our friendly hostel experience in Heidelberg. I spent most of my time riding the S-Bahn to take in as much of the city as possible, going to museums (Deutsche Technikmuseum is a MUST-SEE for tech or rail fans), and traipsing through Germany's first airfield at Johannisthal which is now abandoned. While I did not have the outfit or motivation to check out Berlin's famous nightlife and techno club scene, I will definitely make my return to Berlin in the near future for a different type of trip.
Hamburg
After Berlin, our group of four split into three and one. I went west towards Hamburg while the rest choosing Dresden. East Germany and the post-soviet East Europe sounded incredible for another visit but I had one city in mind for my first big Europe adventure: Amsterdam. And Hamburg is the perfect stop in between Berlin and Amsterdam. By this time my 9-Euro ticket had expired, so I took my first long-distance Flixbus had my first arrival not in a train staiton. Both the Berlin and Hamburg bus stations paled in comparison to their respective Hauptbahnhofs, and using them made travelling more stressful. This didn't stop me from enjoying the famous German port city, however, as my long day in Hamburg included visits to the beautiful Elbphilharmonie, the world's biggest and best model railway (Miniatur Wunderland) and the surpringly named "Cap San Diego" cargo ship.
Elbphilharmonie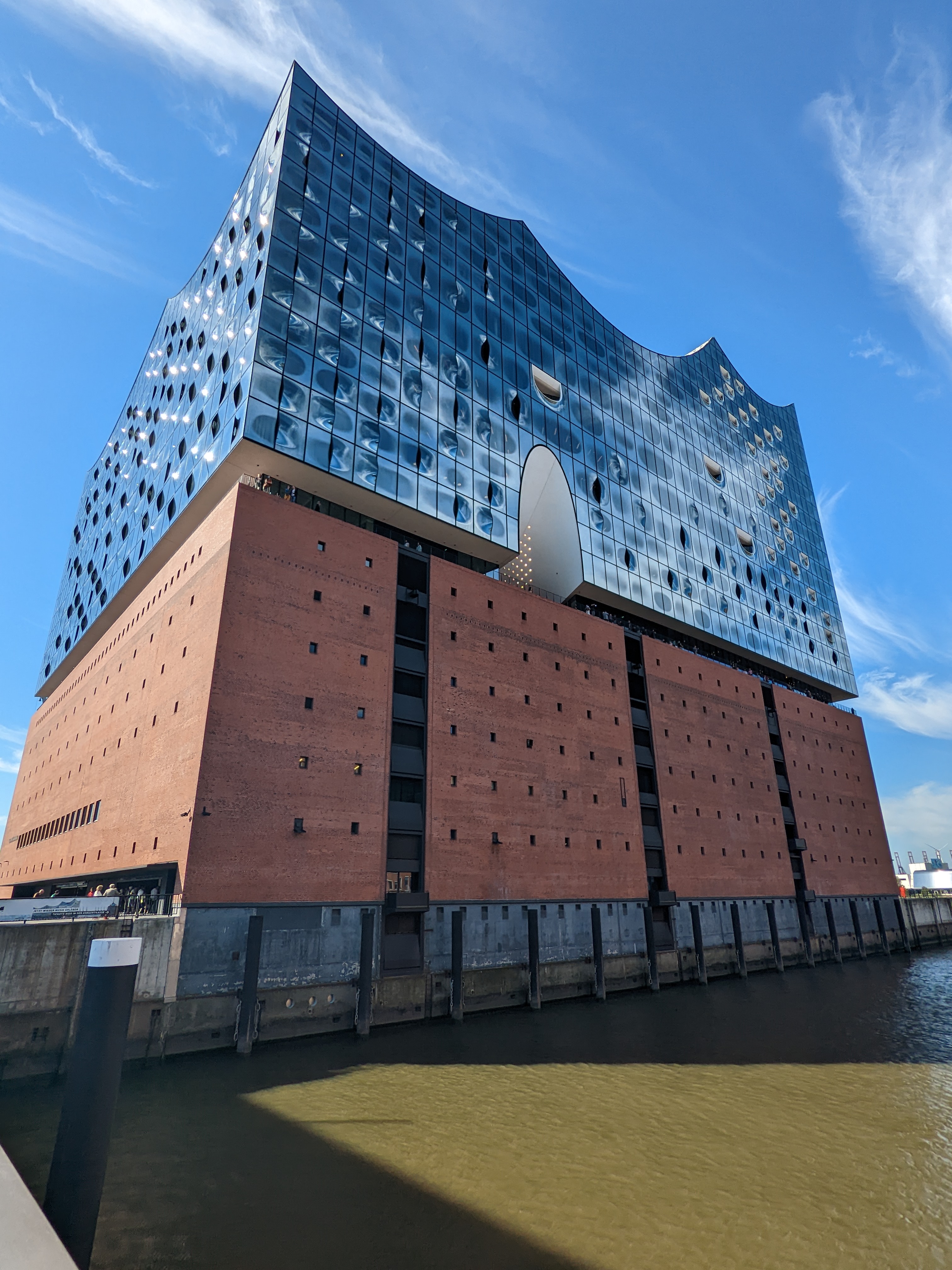 A Reminder from Home?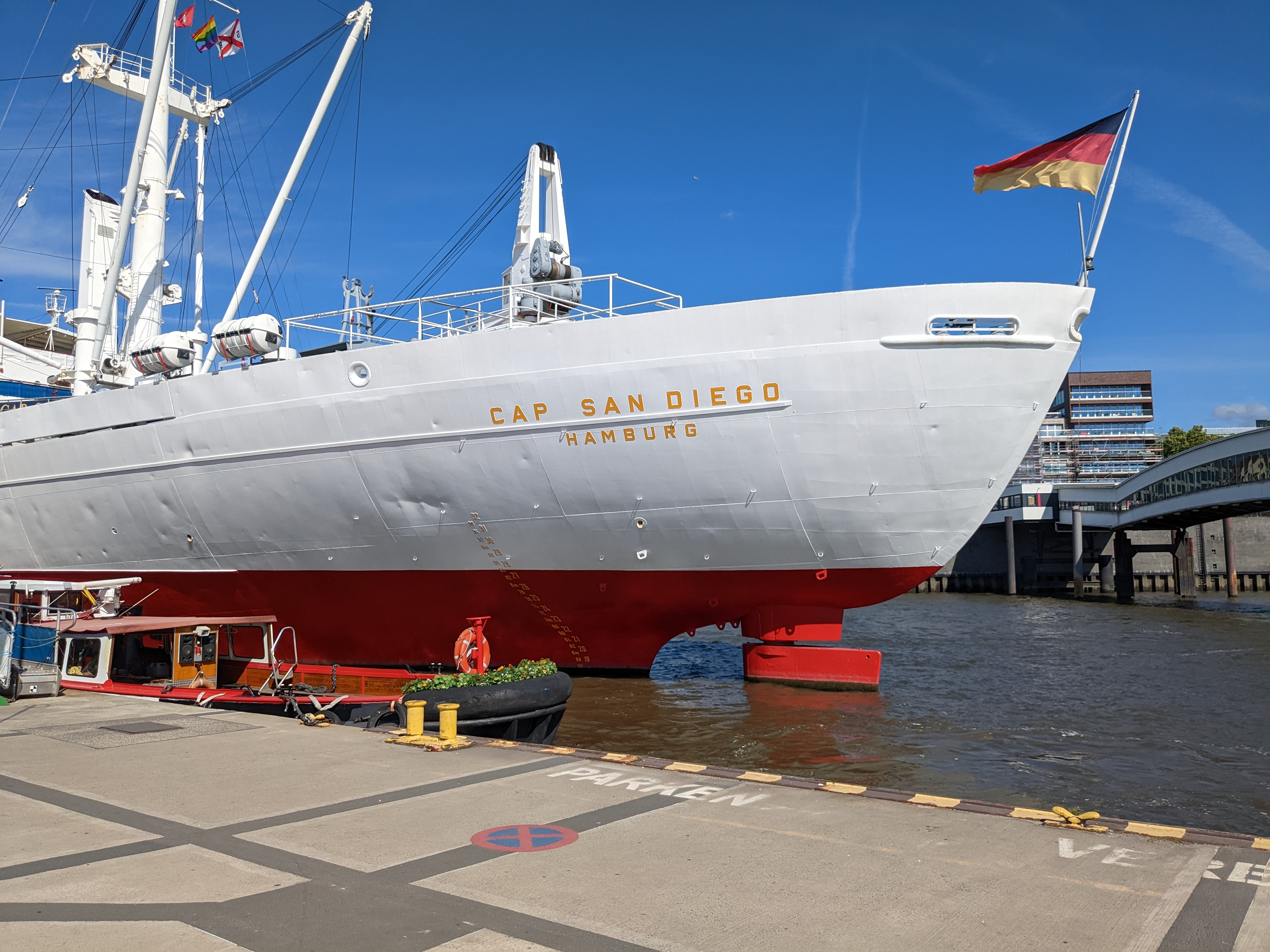 1/1000th of Miniatur Wunderland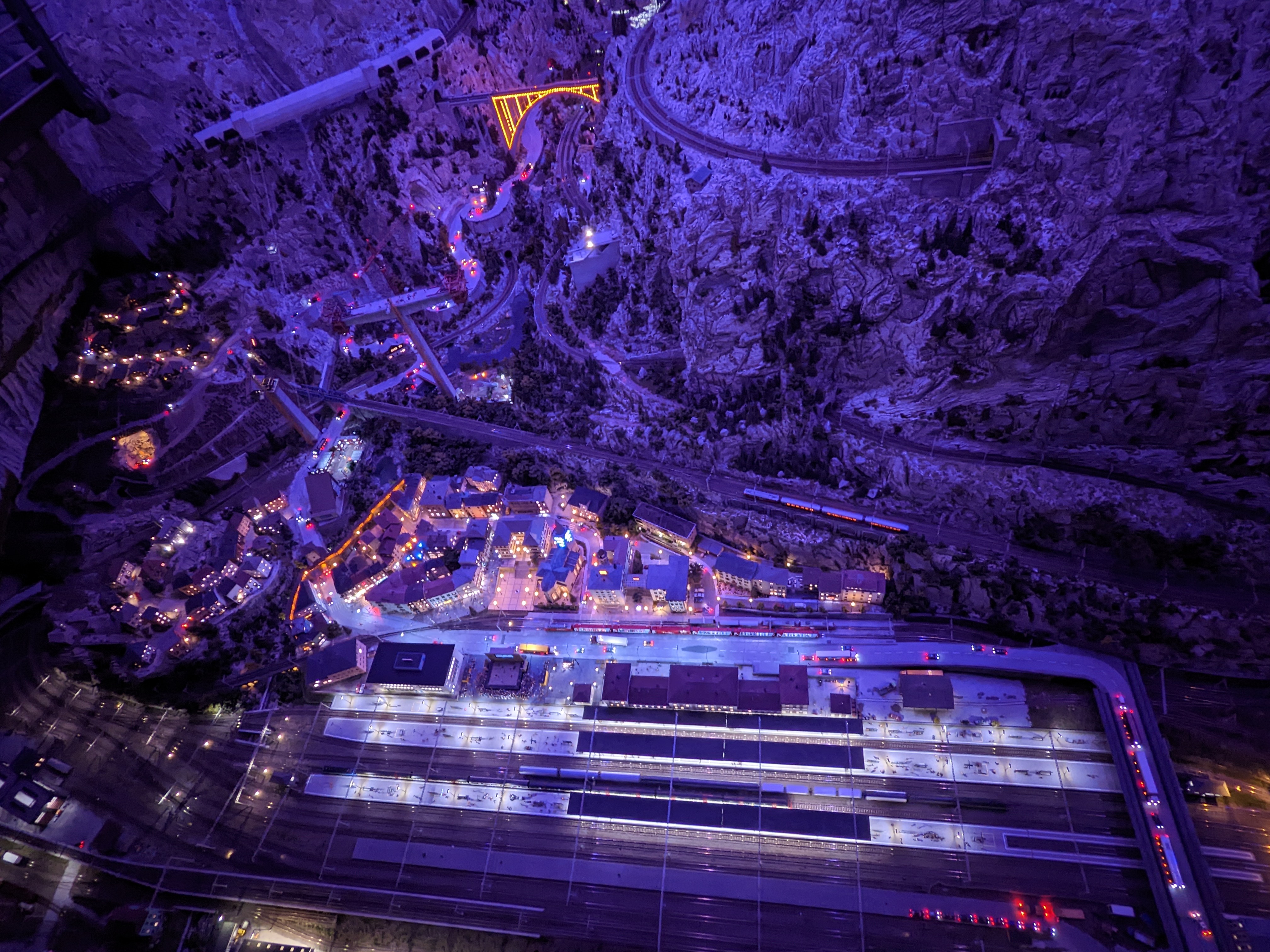 Amsterdam
After my stressful bus ride to Hamburg, the train to Amsterdam solidified my love of travel on the rails. Amsterdam Centraal is located directly on the river Amstel and holds an iconic place in the city's footprint. Conviently located only 250m from the station is one of the best bike rental shops in the city, and I must emphasize that renting a bike is mandatory for anyone wanting to make the most of their Amsterdam visit. As an active cyclist and supporter of bike infrastructure, I have known for years that Amsterdam is my number one Europe destination. My three full days and 60km of cycling adventures around the city were the favorite moments of the whole 2 week trip. Still riding the self-produced high from my enthusiasm about biking, I took a 30km trip north of Amsterdam along a canal and through some beautiful Dutch countryside my first day. That night I also met a vibrant pre-med student from Brussels who showed up in my next city adventure.
Cycling Adventure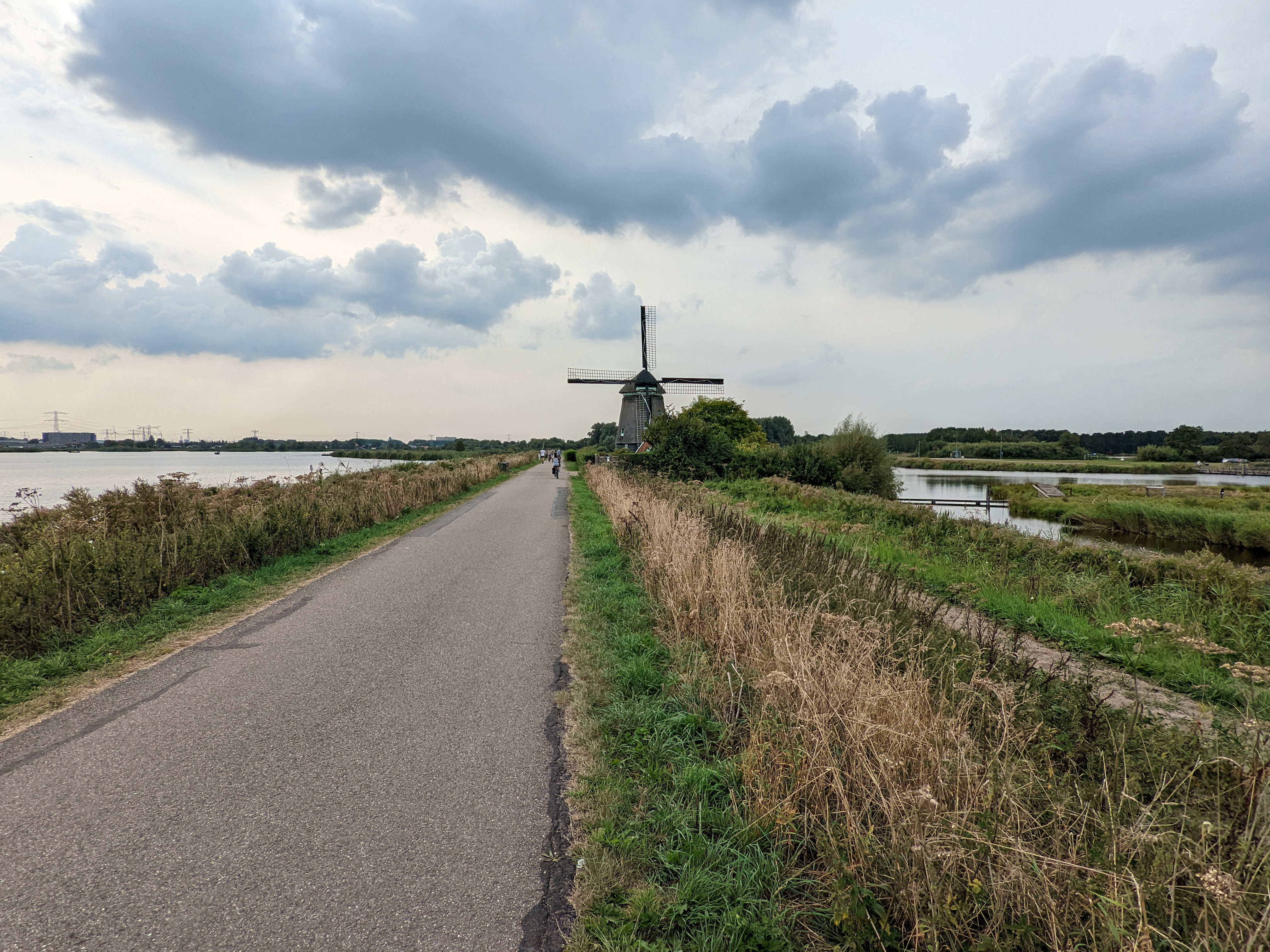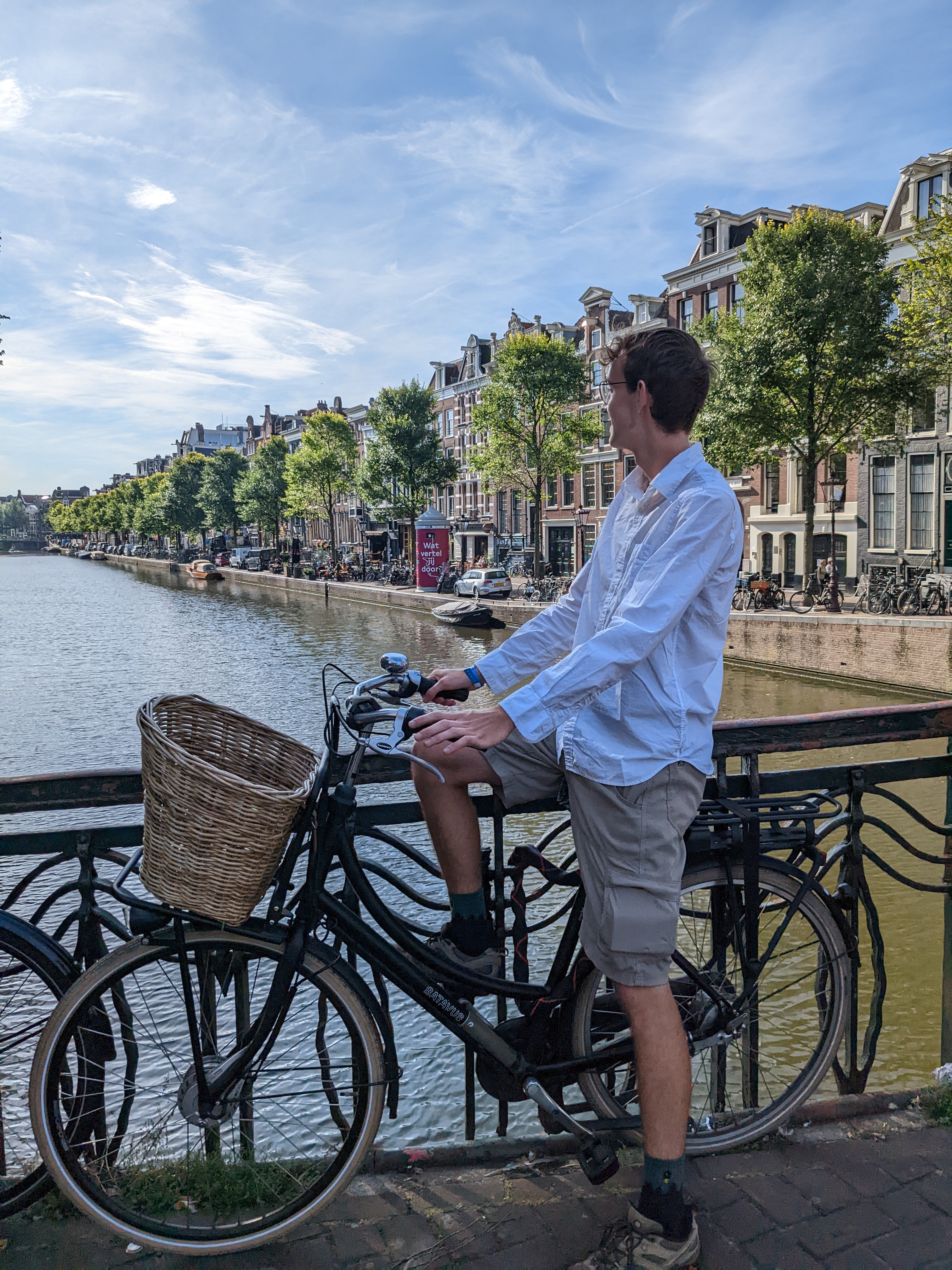 The next two days I continued to fall ever more in love with the city as I explored the city's two major parks, visited a Coffee Shop, and attended a Bruckner concert in the aesthetically and acoustically beautiful Concertgebouw before my trip to Brussels.
Wow! Those Dutch Houses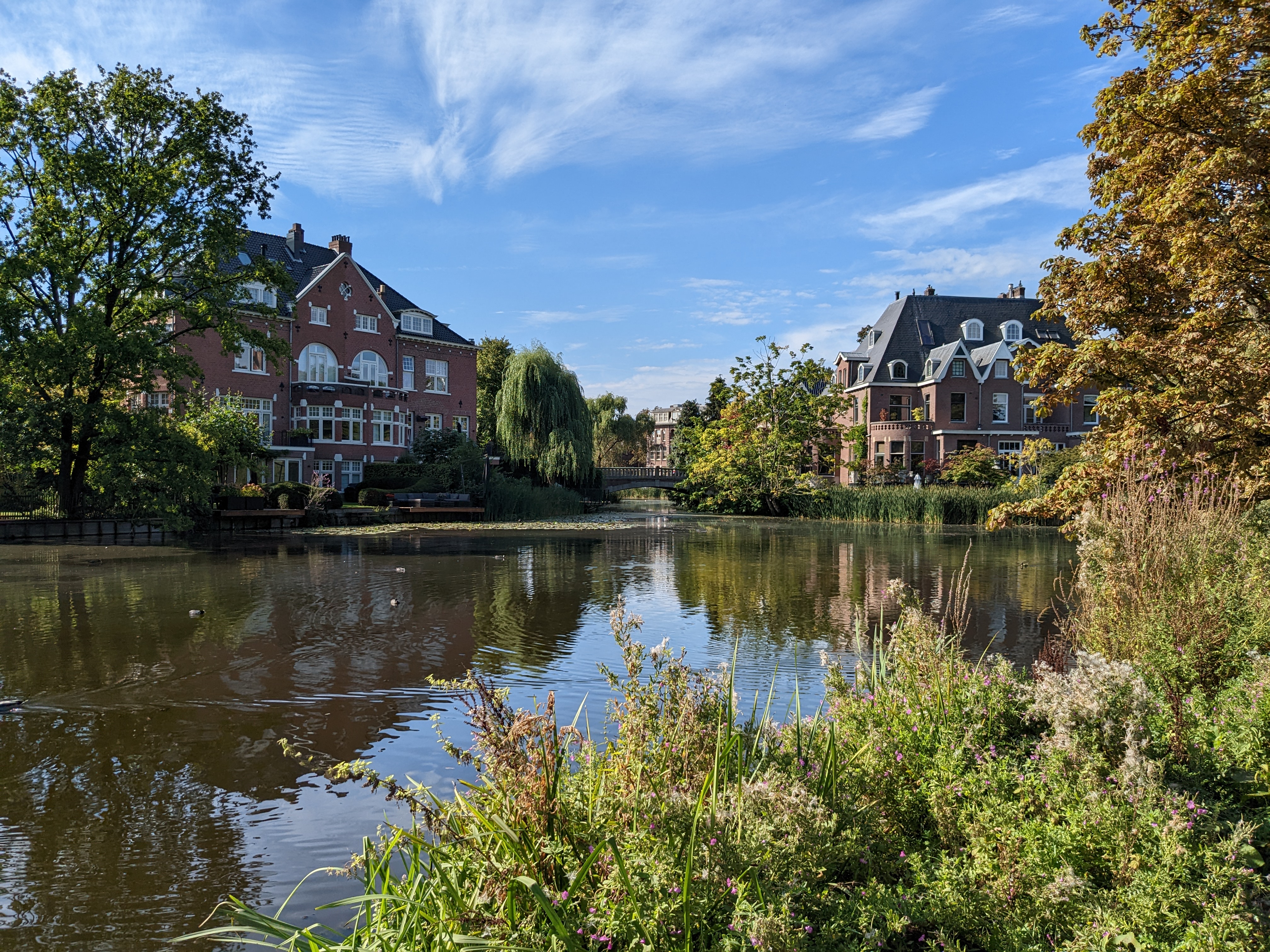 Concertgebouw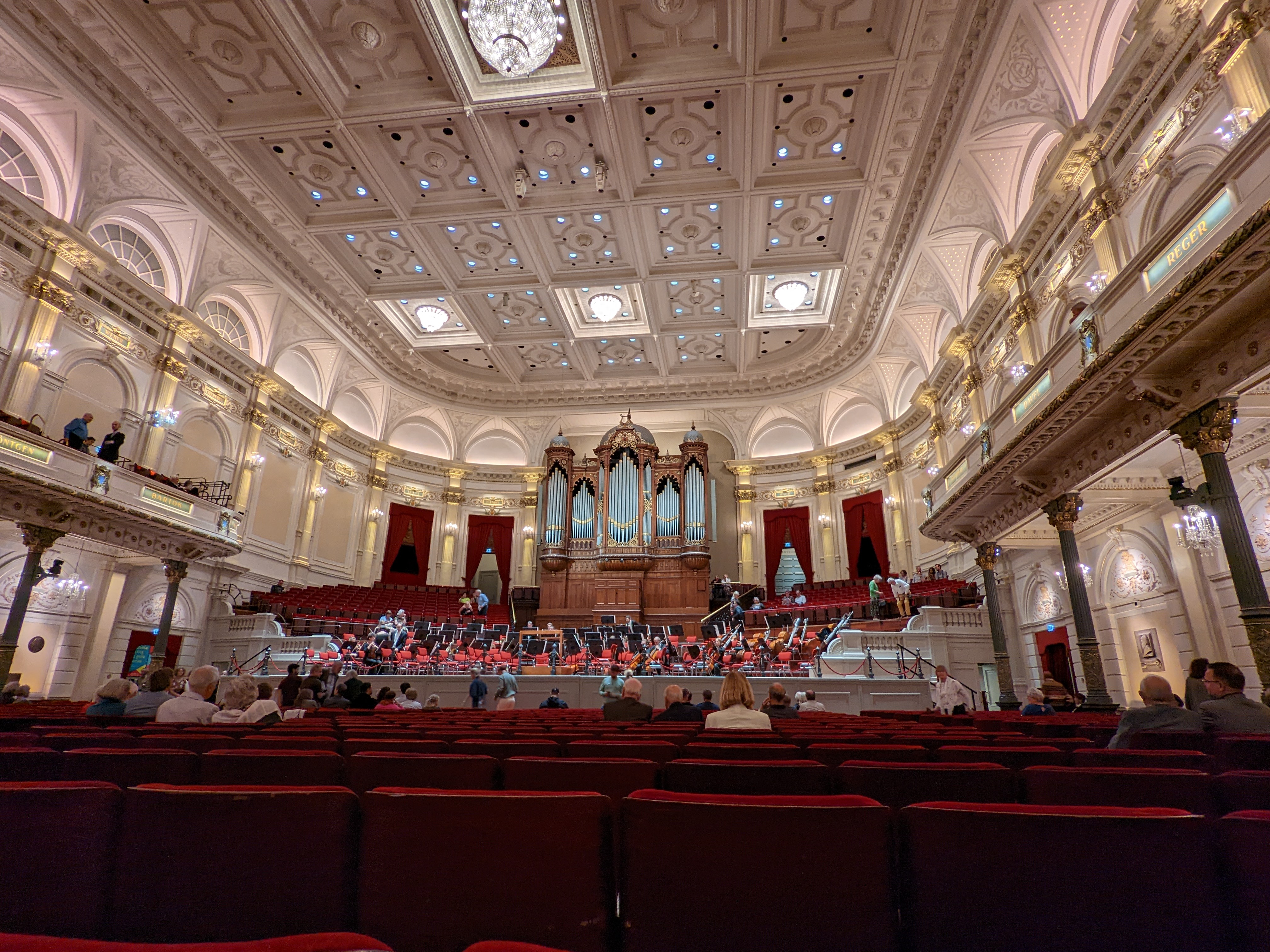 Brussels
The Belgians I've met recommend visiting Ghent or Bruges but rarely Brussels. I visited the capital of Belgium because of an unexpected night at the hostel in Amsterdam that connected me with student living there named Hanna. With Paris as my next stop, the city also made sense as a fun break to a long trip. I arrived at the Brussels bus stop at 2am and enjoyed my half-dazed scooter ride across the city to my hostel despite the poor cycling infrastructure. The next day I took my first guided tour - an efficient but unflexible way to experience the city's most famous sights - and then met with Hanna for dinner near her school UC Louvain.
Mannequin Pis - Yeah, Brussels is Weird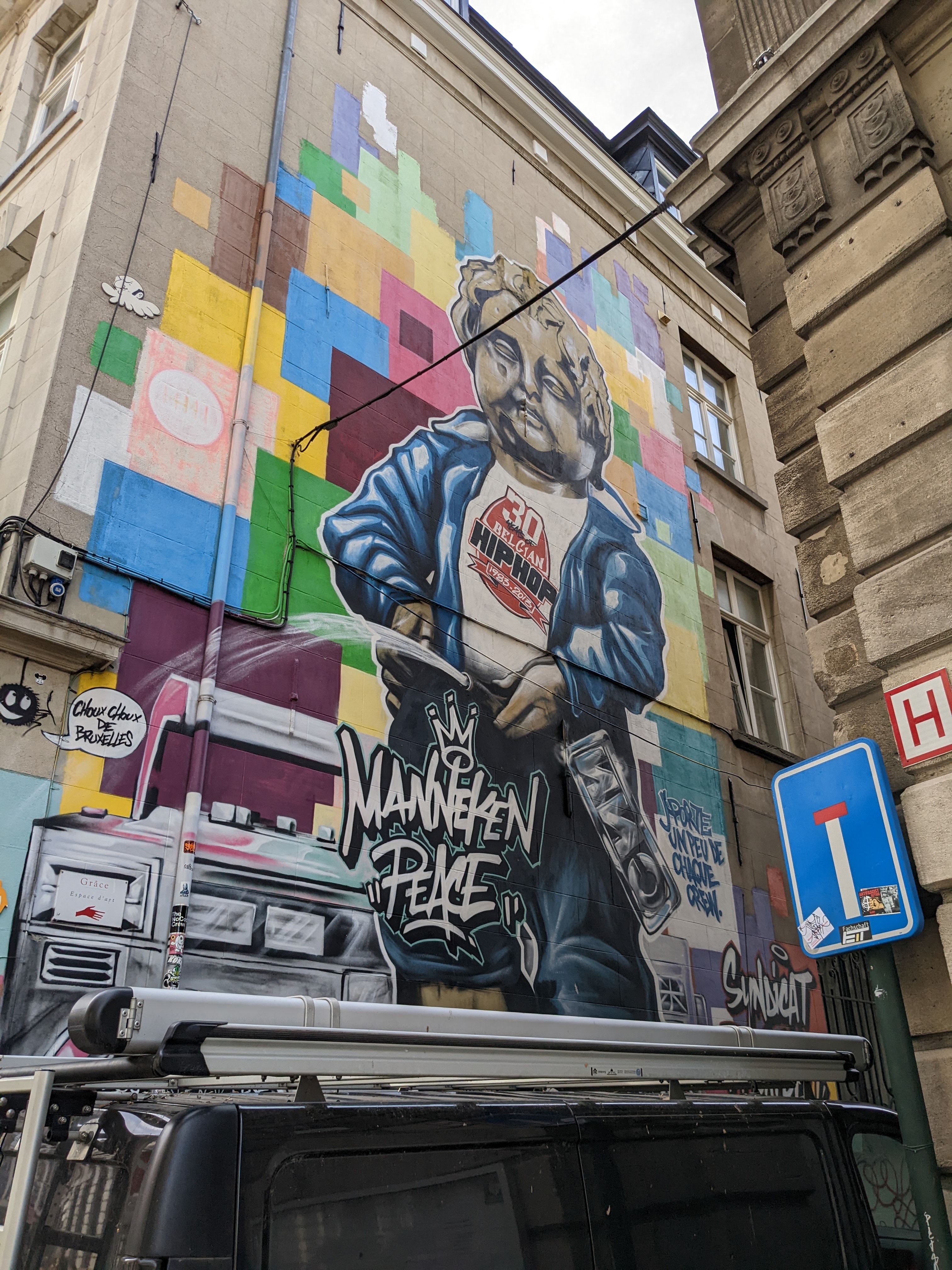 Nice Gothic Church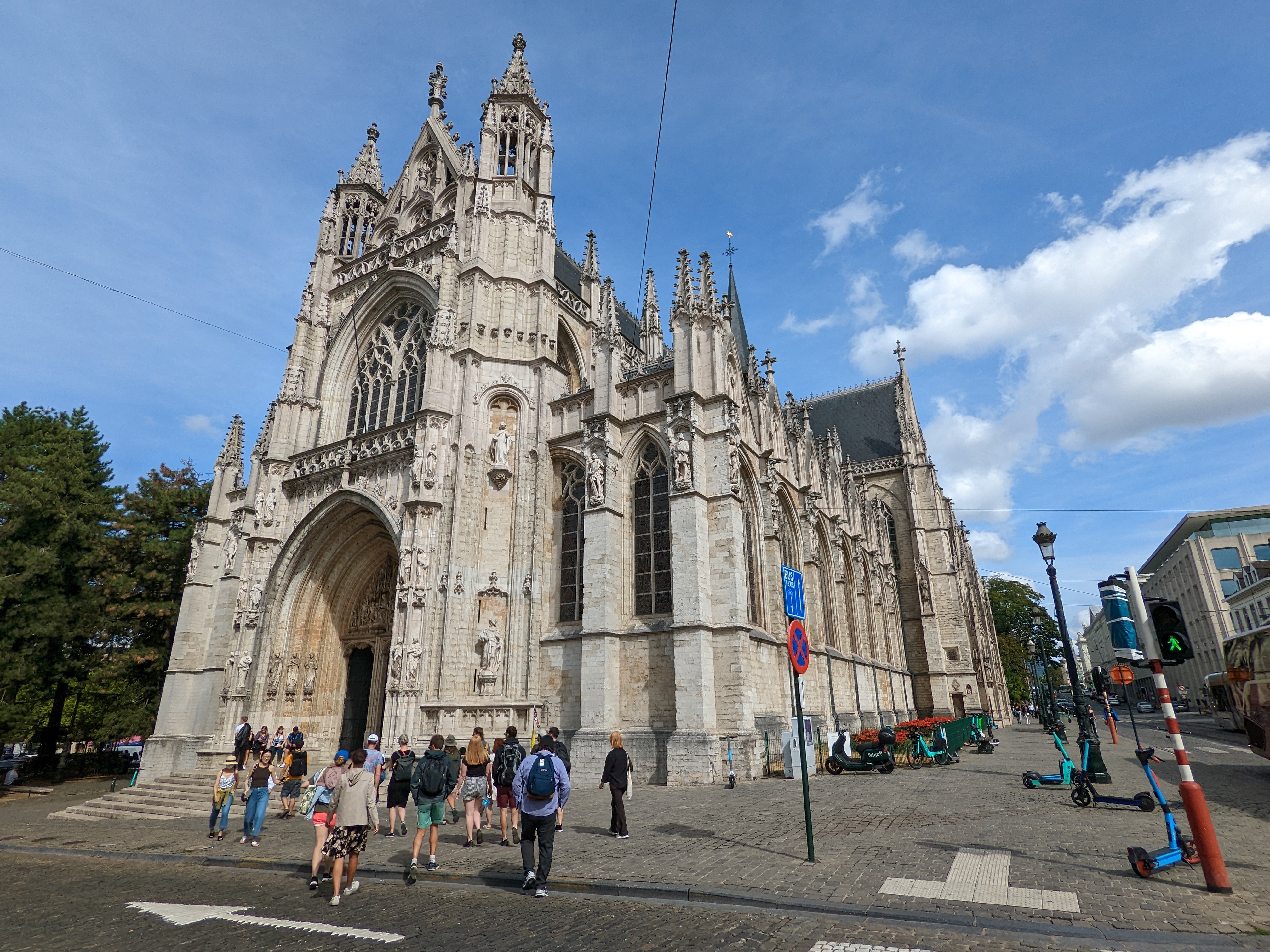 After eating she took me to the college hang-out spot near "Autoworld" and the government district where we found a spontaneous salsa dance party and tried out our mediocre moves. I was too exhausted that night to do anything crazy but I loved my time walking the streets and talking with Hanna. The next day we met again to explore the infamous Palais de Justice, a intimidating courthouse that many Belgians despise. Exploring the city with Hanna was a wonderful experience and I am excited for many more trips with the same type of local connection.
Students Sporting Calottes and Partying at Autoworld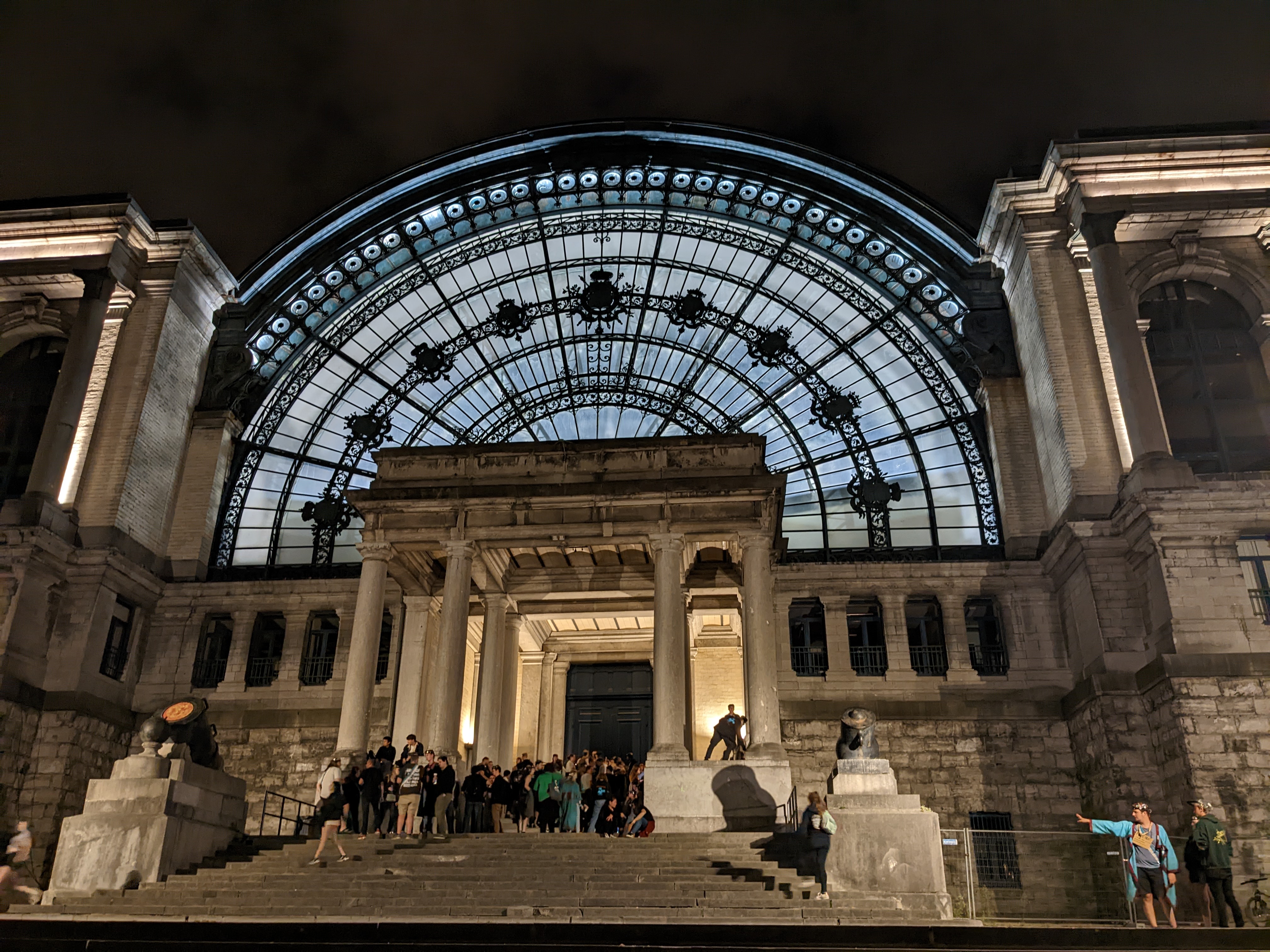 Palais de Justice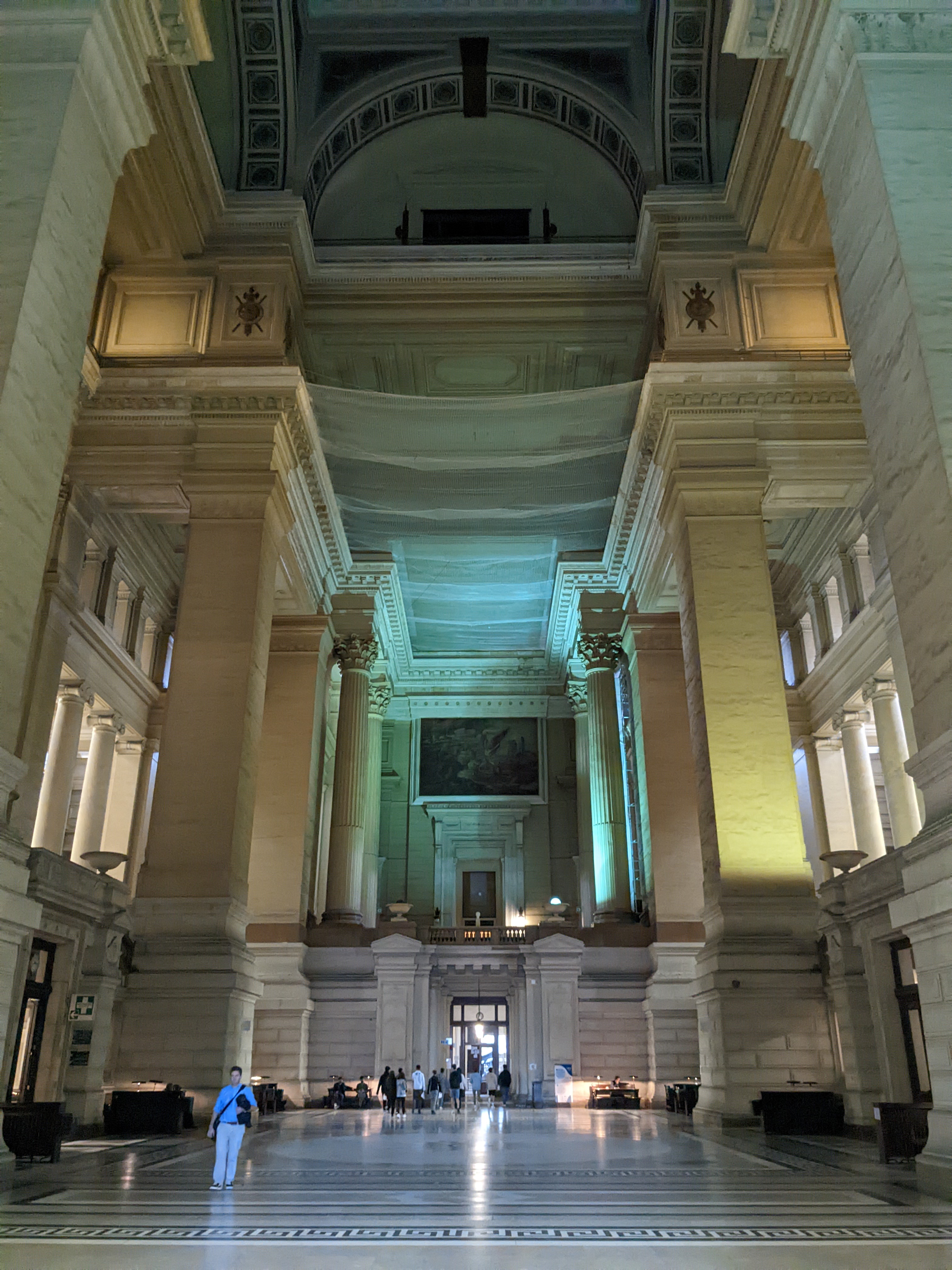 Paris
After catching a cold in Amsterdam and fighting it off in Brussels, I slowed down in Paris to recover and discover la vie Parisienne at my own pace. Sharing a hostel room the first night with some crazy latinas didn't help me catch up on sleep, but it sure was fun! During my two days there I explored above the Seine on la rive droite, the side of Paris known for more modern influences but still with plenty of beautiful history. I actually got scammed for the first time by some aggressive finger trap artists when visiting Sacré-Cœur, but for only 2 Euros it was worth the experience. My last night I tried my first meal in Paris at tiny, charming café and shared an intimate conversation with strangers. I found Paris a dirty and chaotic city, but these undesireable features combine with beauty and romance to create a uniquely attractive destination.
My Favorite Louvre Portrait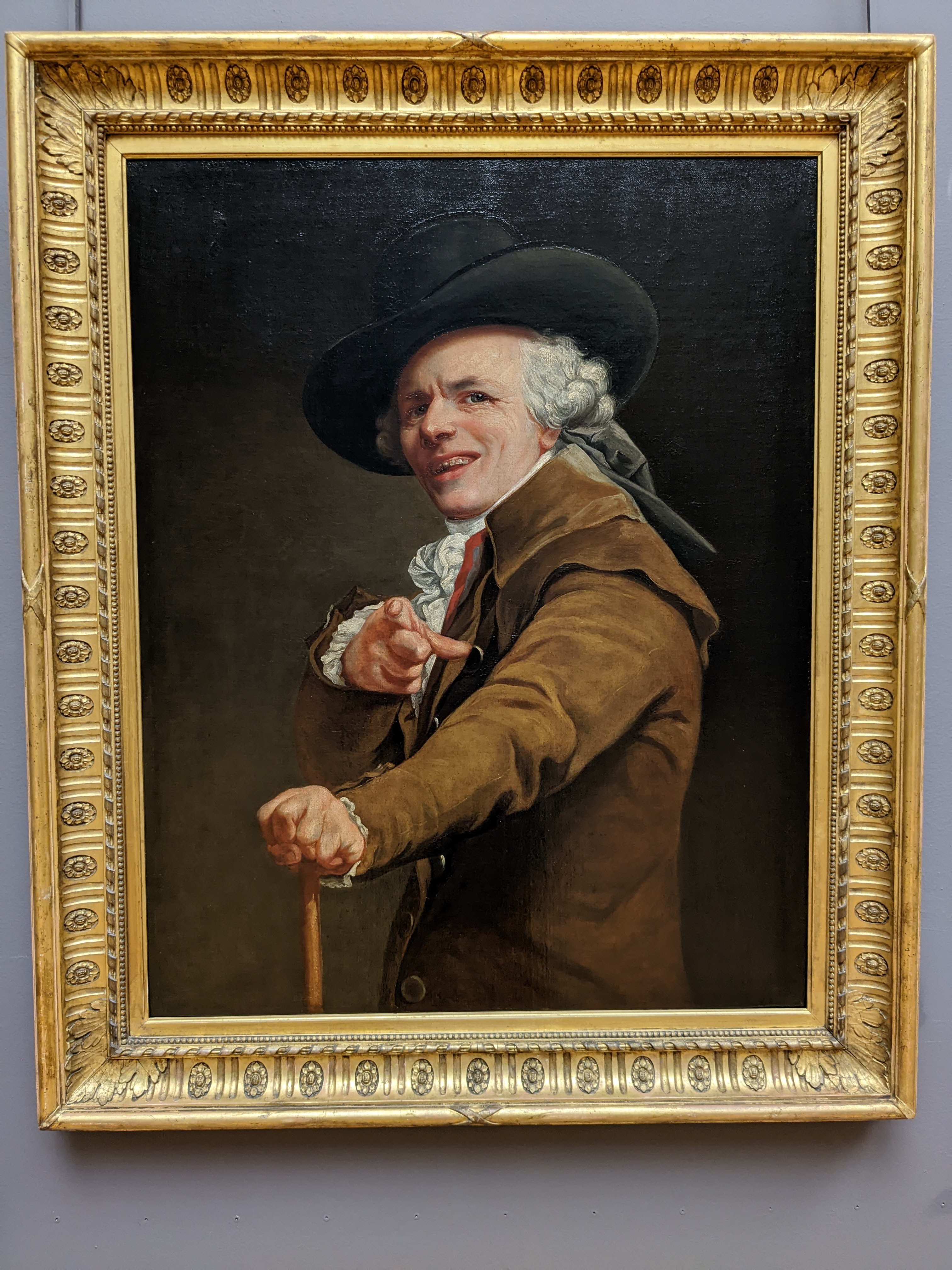 Sacré-Cœur de Montmarte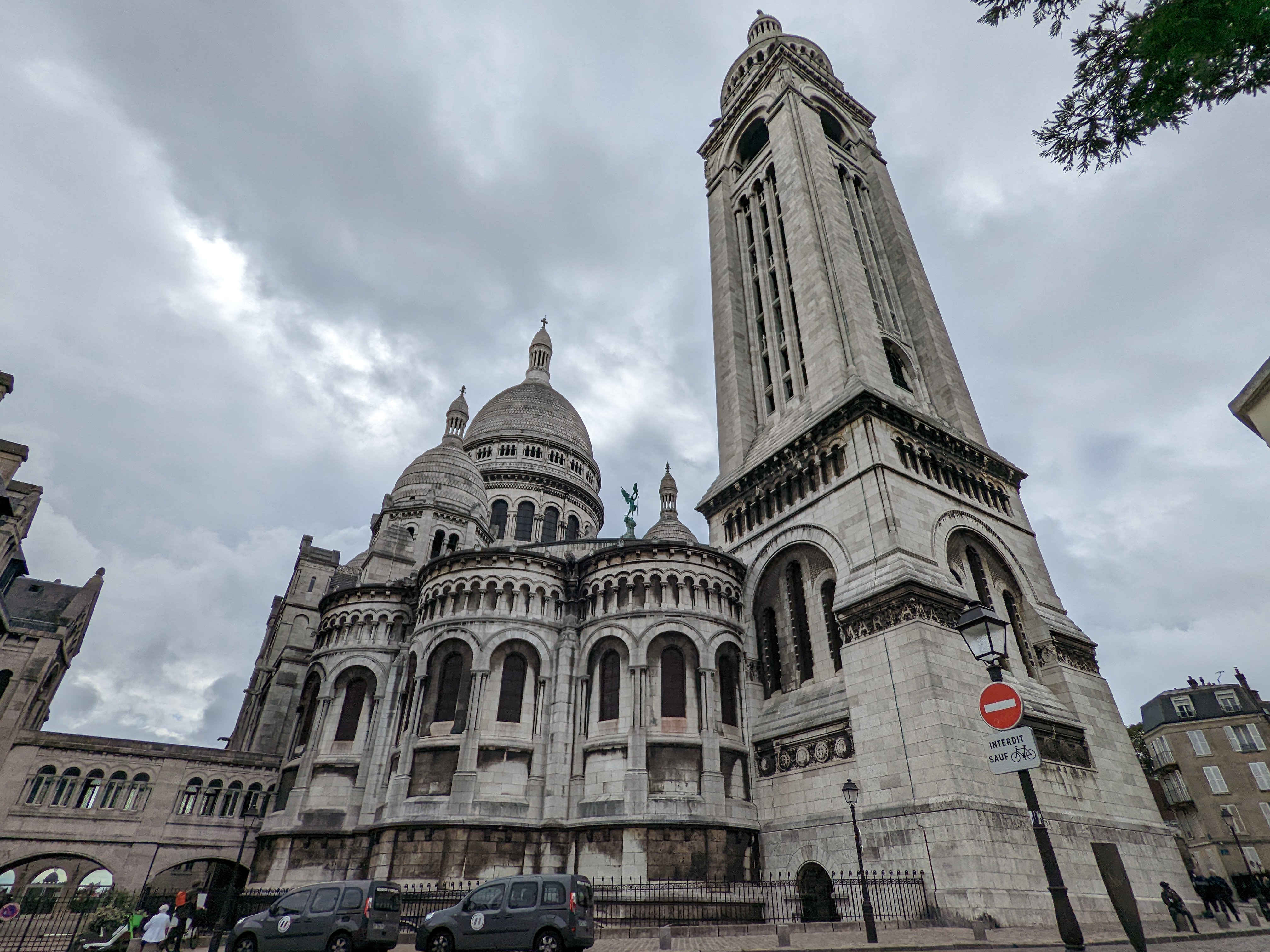 Lyon
My two weeks of subpar sleep in hostels and constant travel had finally caught up to me by the time I arrived in Lyon, and I was ready for my last city on the tour. Geographically defined by the convergence of the Rhône and Saône and steep surrounding hills, Lyon is a beautiful town that exemplifies the south of France. I enjoyed the city's more comprehensible scale and spent my day there visiting churches, trying local pasteries, and climbing hills for views and the roman ampitheater.
Basilique Notre-Dame de Fourvière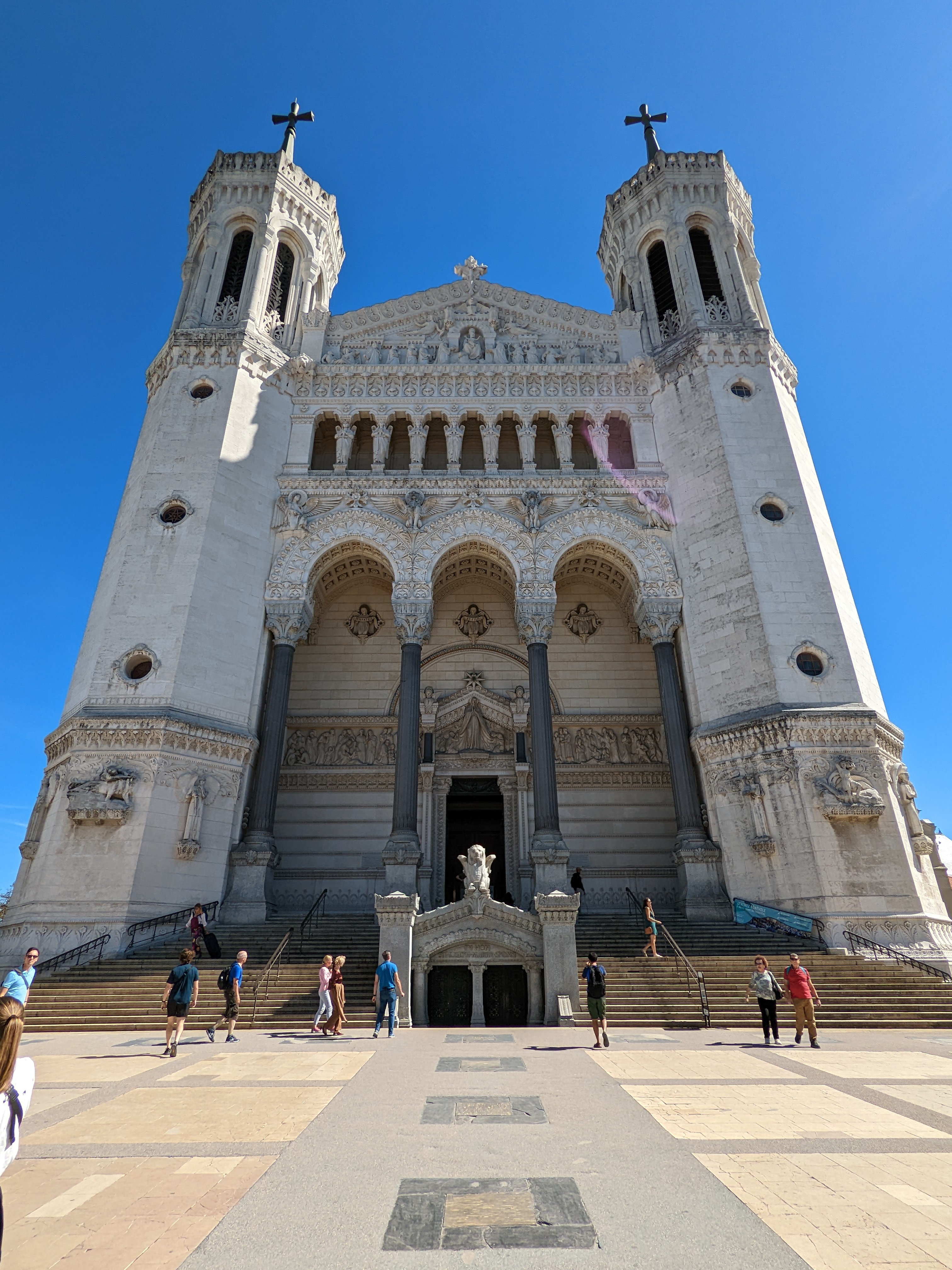 River View